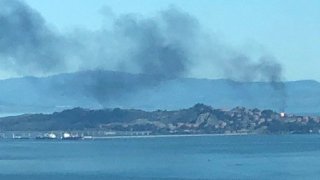 Authorities are investigating flaring from Chevron's Richmond refinery on Monday.
The Governor's Office of Emergency Services received a report at 4:43 a.m. about "an unknown amount of hydrogen sulfide into the air from a flare" at the refinery.
The flaring was apparently due to a "process upset" in a unit at the refinery, and caused precautionary evacuations from part of the site, the report to the state office said.
More flaring and visible emissions were reported later in the morning as well, Bay Area Air Quality Management District spokesman Ralph Borrmann said.
The air district sent staff members to the site and they are working with refinery officials to investigate the cause of the flaring, Borrmann said.
Copyright BAYCN - Bay City News