The largest in a series of storms to hit the Bay Area this week slammed into the region early Sunday. The system brought an additional two to seven inches of rain to some areas.
The fast moving storm came in before sunrise and by midday skies cleared. It was powerful, but its speed helped keep most Northern California rivers within their banks.
A warning for the Truckee River in Tahoe was helped because the storm was also colder than expected turning heavy rains into a mix of rain and snow.
The Bay Area rain totals ware impressive:
Santa Rosa: 7.65 inches
San Francisco: 4.08 inches
Oakland: 3.83 inches
Napa: 3.08 inches
San Jose: 2.63 inches
There were also some impressive wind gusts, including one that clocked at 80 mph in the hills of Los Gatos.
The rain turned streets in downtown St. Helena into rivers before sunrise. NBC Bay Area Damian Trujillo said shop owners in St. Helena were worried whether they would be able to open, but things cleared out and the water receded in time for a fairly normal Sunday.
It was also blamed for dozens of traffic accidents. One shut down the Richmond San Rafael Bridge. A second crash left one driver dead when her car crashed into an SUV that was parked along northbound 280 in Daly City.
The rain also caused a power outage at BART headquarters that shut down the entire system for about an hour.
And even though the rain moved out of the Bay Area by mid-morning, the threat to hillsides and trees throughout the Bay Area remained. Saturated ground means things can still move even if the sun it out, experts warned.
A high surf advisory was issued by the weather service, with swells expected to be 14 to 16 feet along the Northern California coast.
Get live weather radar at this link.
The rain knocked out power to125,000 people, according to PG&E.
Here are the outage numbers as of 7 p.m.
North Bay: 1,630
East Bay: 1,900
San Francisco: 90
Peninsula: 1,420
South Bay: 2,380
Bay Area Total: 7,400
(Santa Cruz Mountains: 1,020)
The National Weather Service issued a Flash Flood Warning for Napa and Sonoma Counties at 6:35 a.m. saying the threat would last until 8 a.m.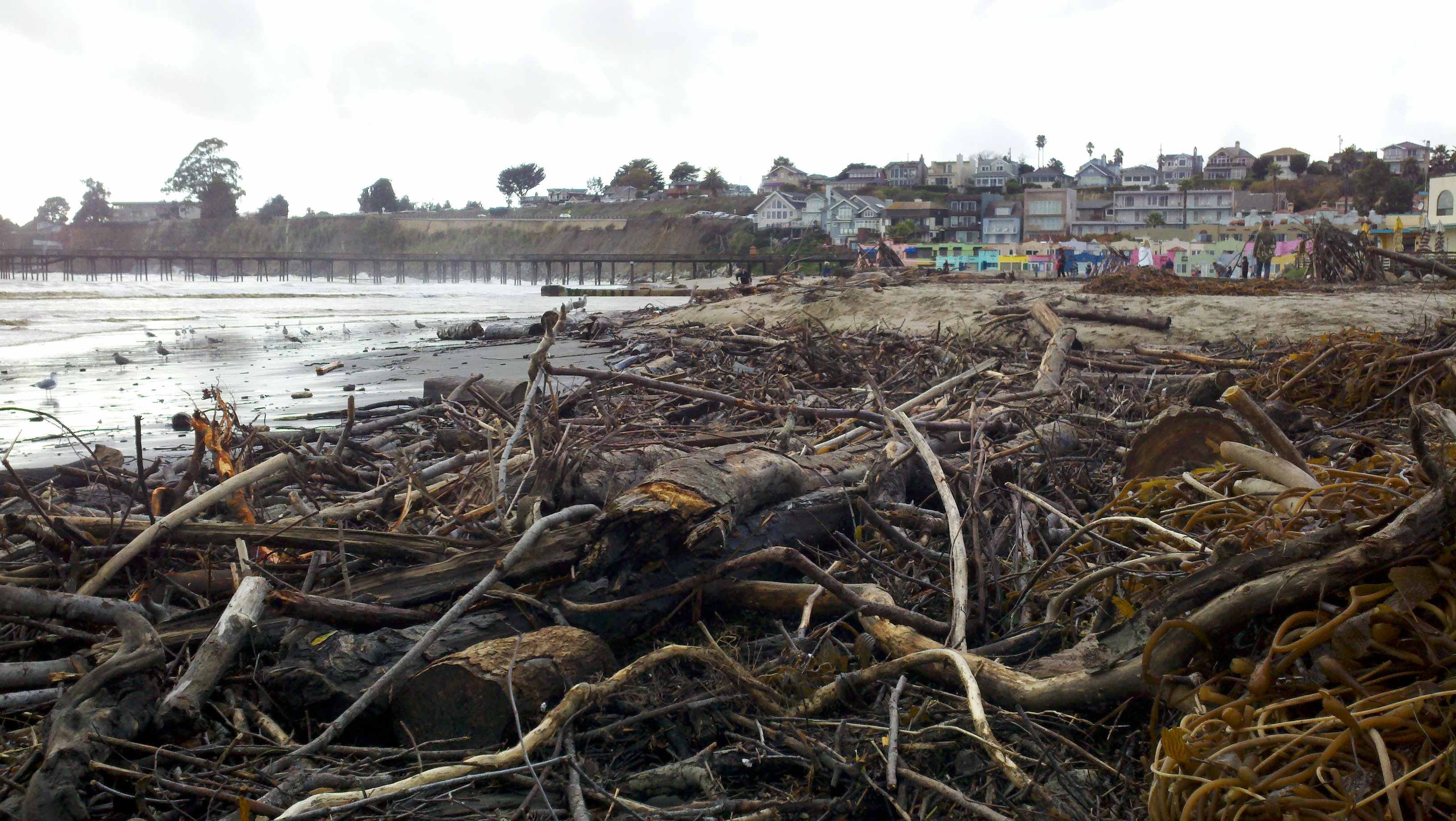 A Flash Flood warning was also issued for the Santa Cruz Mountains at 8 a.m. and lasted until 10:15 a.m. Flash floods aren't caused by rising rivers and instead happen along streets due to backed up storm drains or just too much rain at once.
Click for Christina Loren's Forecast
The National Weather Service also issued a Flood Warning for both the Russian and the Napa rivers.
Both were expected to crest slightly above flood stage, but in the end stayed within their banks.
The Napa River was expected to hit flood stage late Sunday. Napa city officials downgraded their alert once the rain passed Sunday morning. The Napa River was still expected to crest above flood stage five miles north of downtown Napa in the area off Oak Knoll Avenue. City officials say that area is largely agricultural and minimally developed. At that section of the river the flood stage is 25 feet and the river is expected to crest near 26 feet, just one foot above flood stage.
The Napa River overwhelmed downtown Napa in 2005, flooding or destroying about 1,000 homes and forcing thousands of residents to leave the area. With that in mind, residents worked to fill 700 bags with 10 tons of sand, city official Danny Lerma said.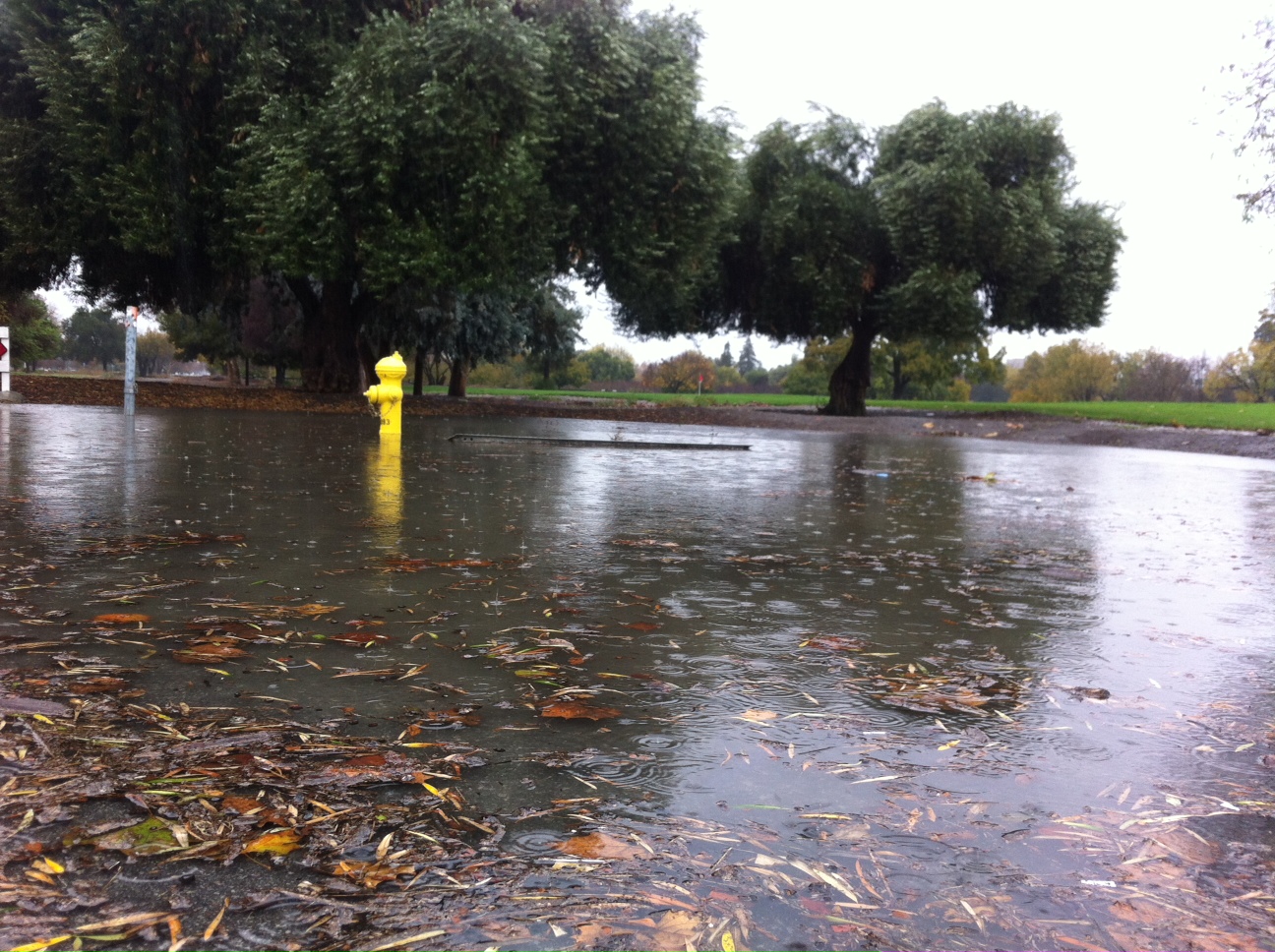 Click here to watch river forecast levels.
The National Weather Service had forecast the Russian River would reach flood stage in Guerneville, around 32 feet, around 2 a.m. Monday morning, and crest around noon that day at 35 feet. However, after the storm, that projection was revised and the river is now expected to stay below flood stage, cresting at just over 27 feet around 4 a.m. Monday. The highest recorded flood in Guerneville occurred in February 1986, when the river reached 49.5 feet, according to the National Weather Service.
The weather service also issued flash flood and mudslide warnings for the entire Bay Area, but the North Bay and the Santa Cruz mountains are expected to at particularly high risk.
Experts said to keep in mind trees will be weakened and power lines could come down producing power outages even under bright sunshine. Mudslides are also a worry. The ground is saturated and any more rain has the potential to make the earth move.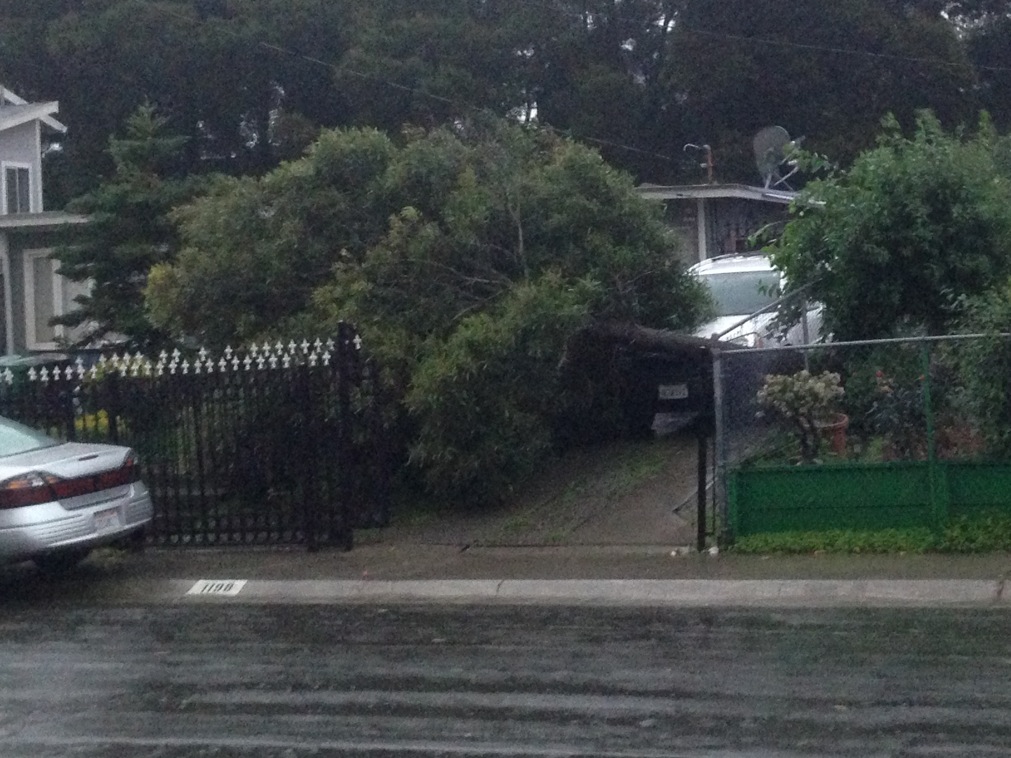 The photo to the left was taken in San Pablo in the Montalvin Manor.
Large trees also fell in Belmont and across Meridian Avenue in San Jose.
The California Geological Survey issued a warning this week about landslides and mudslides, noting that they can occur on any sloped surface and are a particular risk during periods of heavy rain.
Residents on slopes or living at the bottom of a slope should check for fresh cracks in the soil, areas of bare soil and water or mud streaming downhill. While large landslides are slow, fast moving debris flows, often called mudslides, move quickly and can be hard to escape.
"If your residence is on or beneath a slope, the most important thing you can do to protect your safety is to avoid sleeping in lower-floor bedrooms facing the slope during periods of heavy rain," said Chris Wills, who heads the CGS' landslide mapping program.