A riot at Folsom State Prison resulted in the death of a 71-year-old inmate and sent five others to the hospital to be treated for stab wounds, prison officials said.
California State Prison-Sacramento administrators said they're still in the process of investigating the riot that started Wednesday afternoon when prisoners started fighting in one of the maximum-security general population yards.
Guards used pepper spray and other "less-than-lethal force options" to put down the riot, authorities said. Guards fired at least two warning shots to try and quiet the fighting.
Officials said some of the inmates were armed with weapons they may have made themselves.
No guards or prison employees were injured in the disturbance, officials said.
A number of prisoners were being treated at the prison's on-site hospital. Folsom State Prison is home to about 2,300 inmates.
The inmate killed in the riot has been identified as Hugo Pinell, who was part of the infamous "San Quentin Six" involved in a deadly 1971 attack, officials said.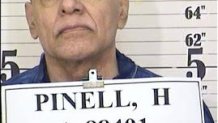 The escape attempt at San Quentin State Prison left six people dead, including two correctional officers, three inmates and George Jackson, founder of the Black Guerilla Family prison gang.
Pinell was also convicted of violently assaulting two correctional officers during the escape attempt and sentenced to life-with-parole on Sept. 1, 1976.
Pinell was initially committed to the California Department of Corrections and Rehabilitation on Feb. 17, 1965 from San Francisco County to serve a life-with-parole sentence for rape with force, authorities said.
In 1971, Pinell killed Correctional Officer R.J. McCarthey at the Correctional Training Facility in Soledad, officials said. Pinell was sentenced to serve life-with-parole on May 22, 1972.