TheatreWorks Silicon Valley has more than just their 50th anniversary season to celebrate, the company recently received a Regional Tony Award.
TheatreWorks is the largest non-profit theatre organization in the South Bay and is officially the fourth Bay Area company to be honored with a Regional Tony.
The award is based on the recommendation of the American Theatre Critics Association and is considered the highest honor for a company not producing work on Broadway.
NBC Bay Area sat down with TheatreWorks Founding Artistic Director, Robert Kelley, to talk about all the excitement from winning a Tony, what to expect from TheatreWorks in the future and the bittersweet feeling of his upcoming retirement.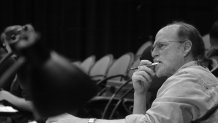 How did TheatreWorks get started in the Bay Area?
The company started in 1970 on April Fool's Day, which was a great way to start. At that time our task was to create a brand new work that featured young people – high school and college age. We came up with a wonderful world premiere musical called "Popcorn." It became a great big hit. It was about our community. It's a very diverse cast and those are kinds of things that have become vital to TheatreWorks over the years.
So, now we've grown into one of the larger regional repertory companies in the country and one of California's major theaters. It's been quite a journey over a half century.
Fifty years ago, did you ever think TheatreWorks would be this big?
Sure, on the very first day I went, "We're going to win a Tony Award just give us a half a century and it'll be there."
No, not really. At the start the goal was to make one show and as soon as it opened I think all of our company felt the next most important thing was to do another one and it's kind of been like that ever since. And we've grown slowly over time and it's really been remarkable journey.
How did you all find out you had been honored with a Regional Tony Award?
It was a stunning moment. I really didn't have anything to say for I don't know a minute or two because it was unexpected. It was just a phone call a few hours before they were going to announce it to the nation.
On the other hand, this is something I think we've all dreamt about at TheatreWorks for the last 20 years at least, and suddenly it was happening just a year before I was set to retire.
That night all I could think of was, "Well I'm very glad it happened this year instead of two years from now when I was gone." But for the company and for everyone who's put so much time into it, the artists, the board, the donors the wonderful audiences we've had and certainly the cities of Palo Alto and Mountain View where we perform – this was a wonderful celebration of the arts of TheatreWorks and of the joy of making work collaboratively. Making art collaboratively.
How does a theater company get considered for a Tony Award?
There's a national organization called the American Theater Critics Association with critics from all over the country, they make a recommendation to the Broadway League and the Tony Award Committee and I believe that someone would nominate you within that group and then there's a lot of discussion.
Of course there are wonderful, wonderful regional repertory theaters all over the country that are under consideration this year.
Thank you, thank you – we prevailed!
So, it's not clear you know exactly who would vote for you or how it all worked but we certainly welcome this award. Especially as we begin our 50th season. What a great way to start!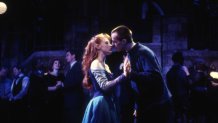 Why do you think it's important to have local theater in the community?
Well our very first show almost 50 years ago was all about this community. It talked about tensions in our city and there certainly were a lot of them at the time and tried to bridge the gap between generations.
I think ever since the idea of representing major concerns and in a specific community and relating them to the larger world outside the community has been a vital part of our art. I think it's an vital part of any art that gets made on a local level. It's been a thrill to be part of the Silicon Valley as its evolved our arc as a company. It pretty much parallels that of the Silicon Valley as it's grown into this incredible international community that's marvelously diverse. And I think our commitment to new work has reflected the commitment of the Valley as a whole to creating new things.
It's not too hard to explain new work in the arts to people who are constantly in a research and development kind of world and trying to make the next great thing.
I just tell them the next great thing will be happening on Saturday night – be sure you get a ticket!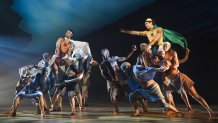 Where do you see TheatreWorks in the next 50 years?
Well I think the Tony Award is really going to help us bring even more great playwrights and composers and artists of all kinds to TheatreWorks. So, I really do see us growing substantially and especially growing in the world of new works and new works development.
We just did a world premiere a year and a half ago of the "Prince of Egypt" written by Steven Schwartz – it was his brand new musical. He's the author of "Wicked" and so many other great musicals and we found out just the other day that that show is going to open in London's West End just about six months from now.
So I think we will see more and more of that kind of originating work coming out of TheatreWorks, certainly over the next decade.
Let's cross your fingers for another 50 years.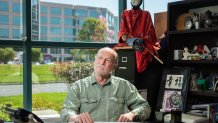 After being honored with the Tony, did a part of you think 'Maybe I shouldn't retire yet?'
Well, actually I'm retiring so that we can be sure we have great leadership in place for the next 50 years.
We're not making that a requirement of a new artistic director that they stay that long, but I feel it's important that the company be in great hands as we roll into the future and we've got a very good hood ornament for our journey as we as we move forward.
What does the Tony Award mean to you personally?
This was a dream I think of anyone who was close to TheatreWorks over the five decades of our existence.
For me, I have to be honest I really didn't think it was going to happen. It's a national award and we've certainly made our reputation nationally but the focus of TheatreWorks has always been on our specific community and I really didn't know if that kind of commitment to a single place would transcend our work and let it emerge as a national concept.
And that's exactly what happened and it happened at the perfect time.
Do you see another Tony Award in the future?
Of course! I imagine that there will be shows that we create here as new works that will go on to win Tony Awards and if so you know I'll be there with bells on.
Check out the full interview: