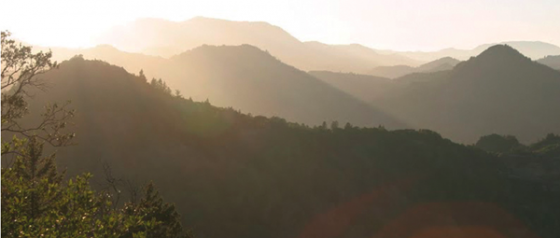 Most people think of wine, food, vines and highway 29 when they think of Napa Valley, but there are plenty of other activities, like hiking, that won't lead to a hangover or require much time in the car. The Vaca and Mayacama mountain ranges offer beautiful views, great hikes (although most of Napa is private land) and an opportunity to work off all that food and wine or appease your non-drinking companions. Here are 4 great hikes on either side of the valley and some resources to help you find hikes more suitable to your schedule, taste, or pace.
Skyline Wilderness Park is 850 acres and has something for everyone. From hiking, camping, and picnicking to horseback riding, Skyline includes over 25 miles of trails and a short main trail (just over 2 miles) that leads to Lake Marie. Most trails are not strenuous and the ridge trail, which offers views all the way across the bay to Mt. Tamalpais on a clear day, is worth the sweat you'll break on the way up. There is a daily visitors fee and other fees associated with camping or bringing your bike, horse or RV.
Westwood Hills Park: On the way up to Mt. Veeder Appellation and the Hess Collection, you'll find this quaint park with 3-miles of diversely forested trails. From open meadows to dense woods, this hike offers views of Napa, nice picnic spots and even a small museum that showcases many of the plants and animals found in the area. It's not a hike to plan your day around, but it's convenient and a great excuse to visit some excellent off the beaten path wineries as you wind up Mt. Veeder enjoying views across the valley.
Bothe Napa Valley State Park: Up the valley in Calistoga, this State Park is nearly 2,000 acres and has trails that run along creeks, through redwoods and has plenty of campsites and other available activities. There are lots of other family based activities nearby and other trails for hiking, biking and horseback riding so consider bringing a group and staying the weekend.
Robert Louis Stevenson State Park: This 5000-acre park hosts Mt. St. Helena as well as a statue of the famous author for which the park was named. It was also the first hike I took when I moved to the valley and although much of the hike is on a gravel road and past somewhat barren lands, you can definitely get a good workout in and if you're lucky you can see as far as the Sierra Nevada. My wife, then girlfriend, brought plenty of water for us and knew not to expect bathrooms other than those nature provides so you should make the same preparations. Park along the road where you see a trailhead and you'll be fine but don't expect a parking lot or many markers.
For more hikes, hiking tours, open areas and outdoor organizations, check out the Napa Valley Destination Council , Napa County Regional Park and Open Space or the Napa Land Trust