These are busy times at the Center for Social Dynamics.
Trainings for new staff, held in new offices, are signs of an ever-growing demand for the 5-year-old company's therapy and support services for children with autism and their families.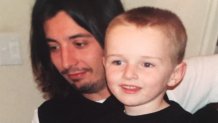 For CEO Pete Pallares, it means a lot of time talking about and planning for his company's future. Not all that long ago, however, Pallares was reminded of his past.
"I recently moved and an old box came out of the basement," Pallares said.
Inside the box were pictures from 15 years ago, when Pallares was a therapist just beginning his career working with children with autism. Among the photos were a few of Pallares with one of his very first clients, a 3-year-old non-verbal boy named Jack Clark.
"Jack wasn't talking," Pallares said. "He had a lot of trouble interacting with other kids, adults."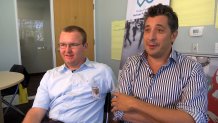 Pallares and Clark worked together successfully for a few years. Pallares even said that Clark spoke his first words when they were working together. Eventually, though, the pair parted ways. Pallares said as fond as he was of Clark, the ethics of his profession required him to make a clean break from the child and his family.
"It's one of the hardest parts of the job," Pallares said. "You work with someone two or three years then move on. It's a thick skin you have to build up."
As his career progressed, from therapist to supervisor to entrepreneur (and also head of the Pedro Pallares Autism Foundation), Pallares often thought about Clark and what had become of him. He wondered if the boy even remembered him and their time together.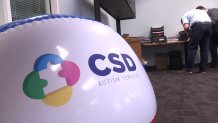 To his great surprise, and delight, Pallares recently got the chance to ask Clark.
His response?
"I thought about Pete in 2001 and 2002 and 2003," Clark said, proceeding to list every year up until the present one.
The reason for the reunion was that Clark's family had tracked down Pallares in order to reconnect and to thank him for the work he had done with Clark. They felt Pallares' therapy, along with work done by others in the following years, was the reason Clark had matured into a talkative, social, hard-working 18-year-old young man.
"15 years later he is a nice young adult with tremendous skills," Pallares said. "A charming guy."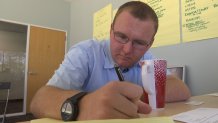 Pallares was so impressed with Clark that he offered him a job as his assistant at CSD. Clark now spends two days a week organizing, filing, and helping Pallares keep his personal calendar.
Pallares said it is wonderful to have his old friend around but it is also so much more. It's validation for his chosen line of work and evidence, not always seen by therapists, of the long-term benefits of their efforts.
"I did the best I could," Pallares said. "As a therapist, you always leave with that doubt, did I give everything? Could I have done something else?"
At least in Clark's case, Pallares no longer has to wonder. A journey from client to coworker seems proof enough.