The old house sitting near the coastline of Belvedere didn't seem to match the others around it. It was a lot more grand, a lot more old — and more in tune with the architecture of say — San Francisco's Pacific Heights than freewheeling Marin County.
That's because the grand home, known as the Moffitt Mansion, actually started out its architectural life at 1818 Broadway Street in Pacific Heights before it was cut in half with a chainsaw, trucked to the waterfront, and taken by barge to its current location. Talk about a mobile home.
"Can you imagine cutting this house in two with a chainsaw?" pondered real estate agent Hazel Carter. "Here it is."
The Moffitt Mansion was built in 1904 for Dr. Herbert Moffitt. It survived the catastrophic 1906 Earthquake and Fire two years later but it nearly didn't survive 1960s development, when the home was slated to be torn down and replaced with an apartment building.
Larkspur architect Norman Gilroy developed an interest in saving the house and devised his unusual plan to cut it in half and haul it across the bay. In 1962, crowds of onlookers watched the home roll down Franklin Street to the Marina Green where the halves were loaded onto barges. It took ten days for the barges to haul the house to Belvedere, eight of those days spent waiting for a favorable tide to unload.
Once the two halves were united, the house was used for tours benefitting a charity before it was sold as a private residence. The house which was originally built for $75 thousand is once again on the market — only this time for $5.49 million.
"People are just fascinated riding their bikes past here because there's nothing like it," Carter said showing off the 15-room home's interior which includes a large stately living room and six fireplaces.
Although the house is filled with intricate details of yesteryear, one of the biggest conversation pieces is the small three-inch crack in the entryway wall. Carter said it's a scar leftover from where the two halves of the house were re-attached. The crack was preserved to help tell the story of the house's peculiar journey.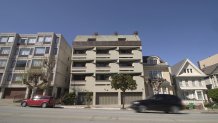 "This was where the cut was," Carter said pointing out the small incision. "We left it so you can see it, it went all the way up."
Carter hoped that whoever buys the house will keep much of the original details — at least to a certain degree.
"I don't think we'll find anyone wanting to get the chainsaw out," she laughed, "and saying which half would you like?"