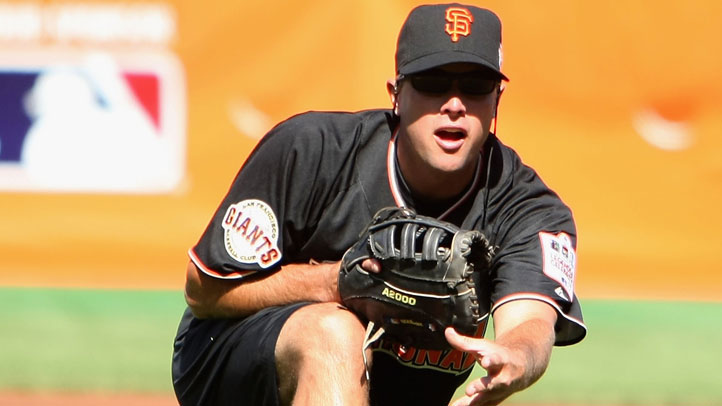 Major League Baseball's First-Year Player Draft is on the horizon -- it's going down June 4-6 -- and when the Giants step up to the podium to announce their picks, they'll be represented by former Giant player J.T. Snow and senior advisor to baseball operations Tony Siegle.
No, it's not the most famous Bay-Area pairing -- and it didn't even sniff Big League Stew's Top 10 Draft Reps -- that the Giants could trot out there, but it also serves an actual baseball function, since Snow is an advisor to Giants general manager Brian Sabean, helps with Giants first basemen and other baseball-related roles.
The Giants are taking a different approach from, say, the Yankees, who are sending their ace C.C. Sabathia. (On his day off, no less, which seems a bit excessive.) Or the A's, who are sending the "iconic" Chad Bradford. Oh wait, never mind, he's classified as a "recent retiree."
Snow played in 1,182 games as a Giant, from 1997-2005, and batted .273 over that span with 124 homers (14 per year) and a monster season -- 28 homers, 104 RBI -- his first year there in '97.
The 44-year-old Snow also won four Gold Gloves with the Giants and is one of only two Giants, including Willie McCovey, to start nine-straight Opening-Day games for the Giants since they moved to San Francisco.
The first round of the draft will be televised on MLB Network on June 4 at 4 p.m. PT, and the entire draft -- there are 40 rounds -- will be streamed live online at MLB.com. (And, FYI, if you watch all 40 rounds of the MLB draft, you have a problem.)
The Giants will look to build on a recent white-hot run of first-round picks: in the last 10 years, they've picked Matt Cain, Tim Lincecum, Emmanuel Burris (what? he plays), Madison Bumgarner, Charlie Culberson (again, plays), Buster Posey, Conor Gillaspie (PLAYS), Zach Wheeler (dealt for Carlos Beltran, sigh) and Gary Brown.