A pair of thieves struck a Make-A-Wish Foundation office in San Francisco Saturday night and made off with a motorized scooter donated by San Francisco Giants outfielder Hunter Pence.
According to Patricia Wilson, the foundation's executive director, the burglars were caught on surveillance cameras as they also escaped with laptops, iPads and other items.
[[374426801, C]]
Pence's once-stolen-and-returned scooter was stolen again, Wilson said, adding that a donor had paid $40,000 for the Major League Baseball player's vehicle of choice. Pence's black scooter, which he uses to travel to and from AT&T Park, was even honored with a bobblehead doll. Pence himself was incredulous. Just before 5 p.m. on Sunday, he tweeted out NBC Bay Area's push alert about the theft, saying "I can't believe it! It's scooter-gate all over again."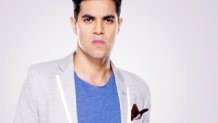 The moped, which has a Giants sticker on it, is autographed and reads, "To Michelle, Much Love!" with a smiling face.
Photographs show that the robbers destroyed a door's handle to access the office, which they ravaged. Drawers and cabinets — that looked like they had been rifled through — were left open, and bags, baskets and other items were strewn across the floor.
The robbery shocked and saddened Make-A-Wish employees.
"It's just such disappointment that somebody would do this," said staffer Tamara Burnett. "My heart just kind of sank....I didn't believe it....It absolutely breaks your heart."
She continued: "Most of all I just want justice. Our organization strives to grant every eligible wish child's wish and we would hate for this to set us back."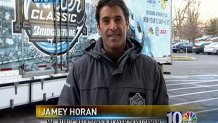 Surveillance footage shows two people, one with seemingly light skin and the other, dark, walking up the stairs and pausing briefly. The first one, who is wearing glasses and dark-colored pants, shoes and a hooded sweatshirt, appears to jimmy a door before turning around to address the second suspect, who in the meantime sits down on the stairs and buries his head in his hand.
The second suspect is clad in white shoes, a cap, a shirt, and dark-colored pants and a jacket. Both are carrying backpacks.
The duo can then be seen walking back down the stairs. The first suspect slung a bag onto the scooter, while the second carried two bags in his hands. The second suspect was more careful to avoid the cameras when hauling backpacks and suitcases full of items.
While no one seems to know the men, employees can't help but feel attacked.
"Clearly our mission is all over the walls," said Burnett. "They knew where they were coming....How do you open up this drawer, see batkid hats, batkid t-shirts and then still continue to take things?"