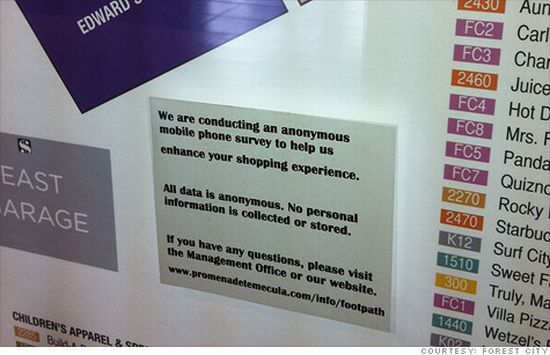 Just in time for Black Friday, here's another new privacy issue to be concerned about. A couple of malls have revealed that they are launching a system that tracks you inside the mall using cellphone signals.
The idea is that by tracking which groups of stores a particular shopper visits, they can provide useful marketing data to the stores. It also helps them see which stores get little traffic, so they can develop ways to increase the flow.
The tracking software doesn't collect any personal data or information about what you actually bought in each store, but it still seems a little creepy. Path Intelligence, the company that created the software, points out that online shoppers are tracked far more closely, but I wonder how long it will be before some mall cop wants to use this system to alert them when an undesirable patron enters the mall, or to see if people are loitering suspiciously.
Starting today, two malls in the U.S. will be using the system. Promenade Temecula in California and Short Pump Town Center in Richmond, Virginia. Unfortunately if you shopping plans include these malls, the only way to avoid the tracking is to turn your phone off.
There are plans to expand quickly into other malls and even individual big box stores soon.
Via CNN
For the latest tech stories, follow us on Twitter at @dvice
Copyright DVICE - DVICE