A firefighter was killed and another injured Monday battling a wildfire in the Northern California forest, authorities said.
The firefighter was killed in Mendocino National Forest north of San Francisco, where a wildfire that started on Aug. 17 was 24% contained, according to a statement from the U.S. Forest Service.
No other details were immediately available.
The August Complex Fire, which initially consisted of 37 separate fires, has burned 349,565 acres, fire officials said.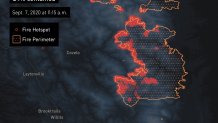 For the latest information on the wildfire, click here.
You can view a Cal Fire map of current incidents here.
The Creek Fire in the area of Covelo, Highway 162 and Short Creek Road burned a total of 820 acres and destroyed two structures, Cal Fire said. As of Aug. 21, it was fully contained.
The 3-19 Fire along Burris Lane in Potter Valley scorched 62 acres and destroyed one structure. It is 100% contained, according to Cal Fire.
The Associated Press contributed to this report.