A mass shooting was reported at 7850 Edgewater Drive Monday morning at a private Christian university.
Witnesses say a former student opened fire inside the school hitting several students.
Oakland police told NBC Bay Area that in all ten people were shot at the school; seven people died and three others were injured. Those who survived suffered non-life-threatening injuries, according to police.
At least one of the victims, a 19-year-old woman, was released from the hospital late Monday. She suffered a gun shot wound to her arm.
Oakland Mayor Jean Quan said that most, if not all of the victims who died were foreign-nationals and that she has been working with the Korean consulate to help identify the bodies.
"This is the kind of incident that hurts the entire community," Quan said. "We won't understand the situation immediately, and the community will ask questions about it for a long time."
"Today's unprecedented tragedy was shocking and senseless," Oakland Police Chief Howard Jordan said.
Chief Jordan said they would not name the victims Monday.
Police said they arrested a suspect in Alameda following the shooting. Law enforcement sources close to the investigation tell the NBC Bay Area investigative unit the Oakland school shooting suspect is One L Goh, 43, of Oakland.
Students said the gunman walked into a reception area at the school and took the receptionist hostage. He then headed toward classrooms. They said he shot people in what appeared to them to be random manner. One witness said the shooter was a "strange person" and acted as if "something wasn't right with him" from the time he first began taking classes in Oakland.
One Student Follows Instinct, Saves Lives
Police swarmed Oikos University just after 10:30 a.m. Helicopter video showed police carrying out at least three lifeless people. They put them on the ground outside the building's front entrance. The victims were soon taken away on stretchers by emergency officials. The school is on the west side of 880 near the Oakland Coliseum in an industrial or business park area.
When police arrived they had guns drawn because they thought the gunman might still be inside the building.
Police said some of the people were trapped inside locked classrooms and needed rescue from Oakland officers. At the time of the shooting there were 35 people inside the school, according to police.
The first call to 911 came in at 10:36 a.m. Chief Jordan said the first officer was on the scene in two minutes.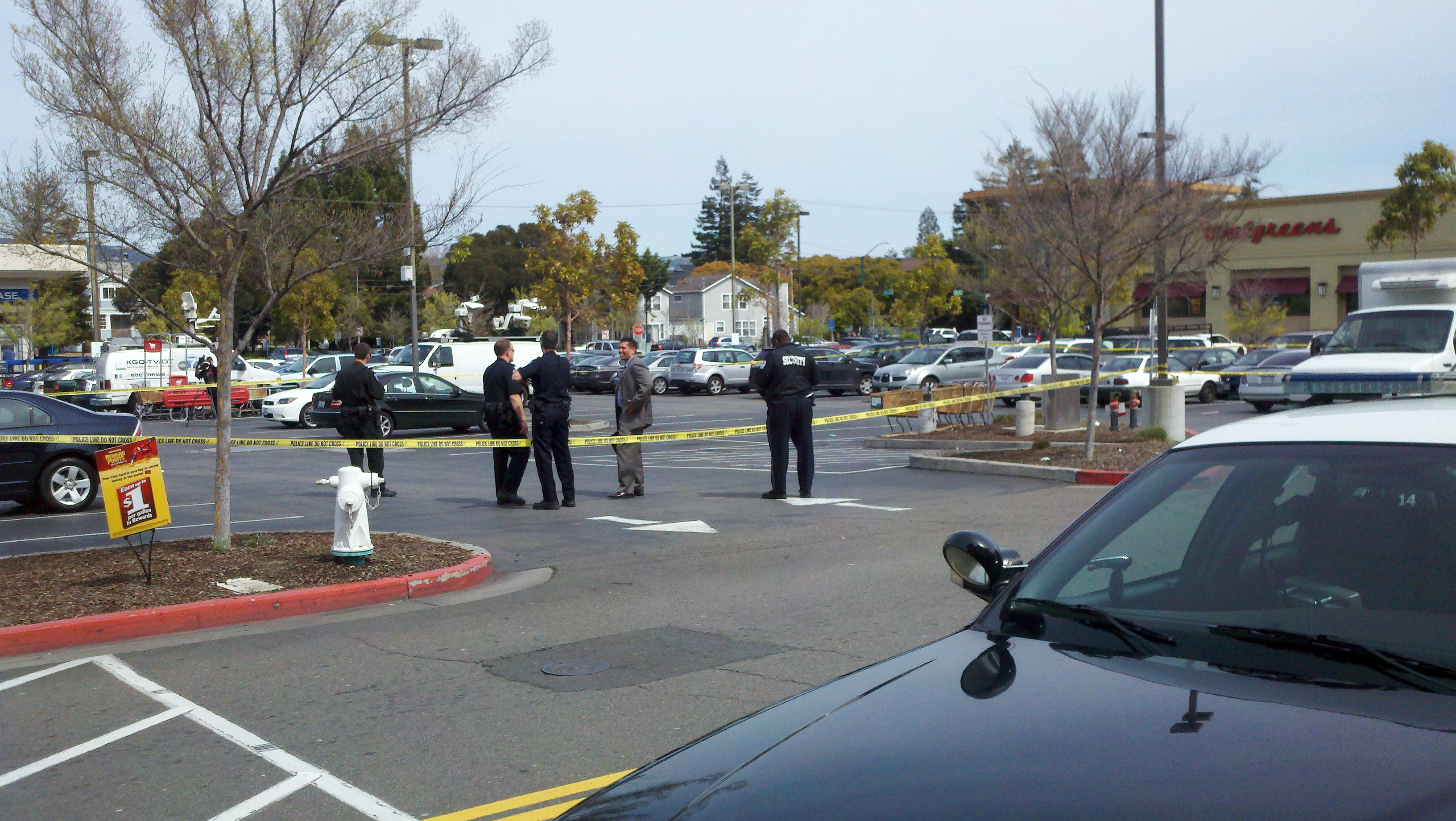 Just a few minutes later, the suspected shooter walked up to an employee at a Safeway in Alameda and said he needed to talk to police. A security guard then called police and detained the man as they waited for officers arrived. Witnesses said the suspect did not resist arrest as he was put into handcuffs. (Scene pictured to the left). Alameda police then took the suspect back to the shooting scene in nearby Oakland, before taking him to police headquarters.
It was not clear what motivated the suspect to turn himself in at a Safeway.
The motive for the shooting was also unknown as of Monday evening and the gun had not been recovered.
Oakland police described the suspect as having an asian male with a heavy build wearing khaki clothing. The police chief tweeted: @oaklandpoliceca Possible suspect is male,asian,heavy build,khaki clothing,near or in area.Call 9-1-1,or 510-777-3321 if suspect nixle.us/7Y47K while the shooting scene was still active.
Police asked for anyone with photos, cell phone video, or surveillance video from the scene to contact them.
This is how Oikos University describes itself:
We are an independent institution that was established specifically to serve the community of Northern California in general and San Francisco and Oakland areas in particular. Oikos University was launched to provide highest standard education with Christian value and inspiration.
The university is a Christian school that offers courses of study in Asian medicine, theology, music and nursing, according to its website. Many of its students are Korean, an instructor said.
Monday afternoon, students who had fled the shooting returned for their belongings as community members turned up looking for loved ones.
Below is video from our helicopter in the moments after the shooting. We want to warn you it is graphic in nature and shows police pulling victims out of the building.
View more videos at: http://nbcbayarea.com.