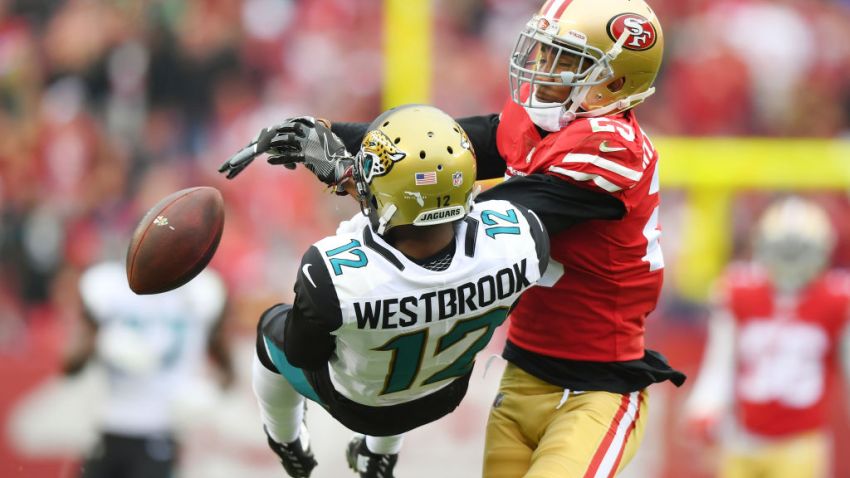 The 49ers are in the market for help at cornerback, and reports had veteran Vontae Davis — who is a free agent after being with the Colts in 2017 — visiting with the team Tuesday.
But however the Niners decide to upgrade, the team already has two corners it likes a lot: Ahkello Witherspoon, a rookie who came on strong in 2017, and nickel specialist K'Waun Williams. For now, at least, those two are expected to start in 2018, with the upgrade coming on the other side of the field from Witherspoon. Dontae Johnson played opposite Witherspoon last season, but will likely leave in free agency.
As David Fucillo of SB Nation wrote in late November, Witherspoon evolved into the 49ers' top corner in his first season in the league.
"I don't know that Witherspoon is a clear-cut No. 1 cornerback, but he is proving to be a player in this league," wrote Fucillo.
Witherspoon is a long pass defender (6-foot-3, 198 pounds) who was the 49ers' third-round pick out of Colorado. He played in 12 games, starting nine, had two interceptions, seven pass breakups, a forced fumble and was in on 32 tackles.
In ranking every 49ers starter last season, Bleacher Report recently gave Witherspoon high marks and predicted he will take a big step forward in his second season.
"He quickly looked at home as a starting boundary corner, with impressive foot speed and reaction time for a 6-3 frame," wrote Bleacher Report. "He sometimes took false steps in his backpedal in press assignments, but he was effective overall."
While the list of potential free-agent corners is strong, with Davis, Malcom Butler of the Patriots, Trumaine Johnson of the Rams, E.J. Gaines of the Bills and Kyle Fuller of the Bears at the top, Witherspoon gives the 49ers a young player who appears he might grow into a solid NFL pass defender.
Late in the season, 49ers defensive coordinator Robert Saleh said Witherspoon had grown significantly in his first season and was learning rapidly. Saleh said his tackling ability — thought to be a weak point coming out of college — had become a strength, and his coverage skills and instincts were good.
"We have no worries about Ahkello vs. any receiver in this league," said Saleh. "We think he'll do a very good job on anyone."
Latest Winter Olympics Headlines:
> Zagitova Wins Figure Skating Gold, Edges Medvedeva
> Karen Chen Frustrated, Disappointed With Olympic Results
> Mirai Nagasu Overcome With Tears, Joy Despite Solo Struggles
> Karen Chen Falters in Free Skate
> Tara Lipinski, Johnny Weir to Host Olympics Closing Ceremony
Viral Moments:
> Garlic Girls: South Korean Curler Strikes Gold, Becomes Meme
> Try Not to Laugh at Maame Biney's Bad Jokes
> Curling Gets the K-Pop Treatment
> Who Runs Team USA? Women
> Incredible Call Perfectly Captures Diggins' Historic Moment
Must-See Photos/Video:
> David Wise Celebrates With Kids, Wife: 'You Won!'
> Kevin Rolland Takes Terrifying Spill in Men's Halfpipe
> This Is What Karen Chen Does Before Every Performance
> #ColdPeopleOfPyeongChang: Fans Battle Frigid Temperatures
> Squaw Valley: Home of Olympians and Medalists
NorCal Athletes:
> Get to Know Your Northern California Athletes
> Bowman on Sochi Gold and Role as Mentor to Tahoe Youth
> Meet Fremont's Karen Chen, Ladies' Figure Skater
> Meet Bay Area Bobsledder Nick Cunningham
> Where's Garvin? Tracking Our Intrepid Reporter's Adventures