Authorities made an arrest Sunday afternoon in connection with the fatal shooting of a teenage grocery store worker outside a Safeway in American Canyon, the Napa County Sheriff's Office said Monday morning.
Christopher "Roly" Young, 23, of Martinez was taken into custody early Monday morning after reports of an adult jumping fences and running through backyards in Napa, authorities said.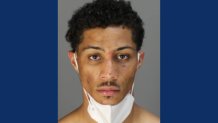 Further investigation identified and located the white Cadillac used in the shooting parked on Cattail Drive in American Canyon. Residential surveillance video showed a male subject matching the description of Young parking and exiting the vehicle within minutes of the shooting. He then left the area on foot in the direction in which he was eventually apprehended, officials said. A subsequent search of the vehicle located a .45 caliber handgun, the same caliber handgun used in the Safeway shooting.
According to Napa authorities, the shooting took place shortly after noon Sunday. The victim was identified as 18-year-old Fairfield resident Nathan Garza, a Safeway employee.
American Canyon officials said via Twitter that the suspect fled the scene.
Investigators are trying to piece together statements from witnesses about a potential getaway car. But so far, they have not released many details.
Detectives have not released any potential motive.
"I'm the Garzas' next-door neighbor. Moved in about nine years ago. First saw Nathan playing football in the street with his friends. Known him for nine years. He's a great boy," said neighbor Lance Marshall.
According to people who knew the victim, Garza is a recent graduate of Rodriguez High School in Fairfield.
He was a star baseball player who had hopes of playing in college.
"He loved his baseball. He always preached about his baseball, how he wanted to play for the A's," said friend Krishal Sharma. "He was going to go to DVC, and he wanted to get drafted from there."
Anyone with information can contact the the dispatch at (707) 253-4451.