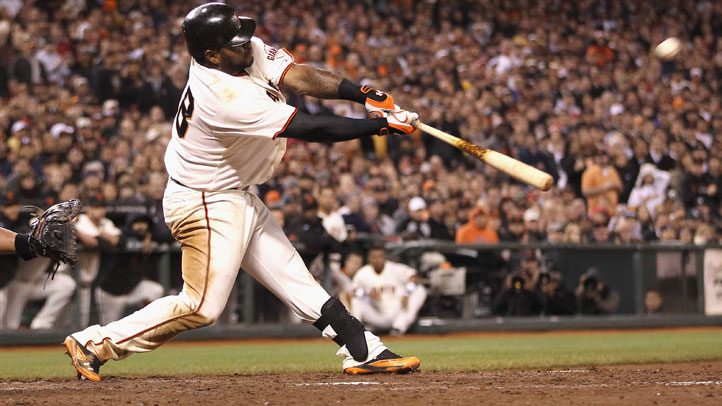 On Thursday, the Giants announced that third baseman Pablo Sandoval suffered a fractured hamate bone. As we noted earlier, that should sound familiar.
But the level of deja vu involved with Panda's injury is borderline nightmarish.
For starters, there's the obvious nature of the injury: Sandoval fractured his right hamate bone in 2011, and he fractured his left hamate bone in 2012.
More disturbing is the timing: Sandoval fractured his hamate bone in 2011 on April 29 and didn't play again until June 14 as a result. This time around, Sandoval might've suffered the injury on the exact same day -- Andrew Baggarly of CSNBayArea.com reported on Thursday that Sandoval tried to play through the injury but it hurt too badly to continue beginning on Wednesday.
Regardless, it's insanely coincidental and completely disastrous to have the Giants best hitter suffer the same injury on a different hand at the same time one year later.
And even if he didn't play through the injury, the coincidences grow, as Sandoval played in 24 games in both 2011 and 2012 before being shut down and placed on the disabled list.
That might lead you to ask whether or not his stats were similar at this time last year. GREAT QUESTION. Because they were terrifyingly similar:
2011: 24 games played, 26 hits, 5 home runs, 14 RBI, 8 walks, 14 strikeouts, .313/.374/.904
2012: 24 games played, 30 hits, 5 home runs, 15 RBI, 8 walks, 10 strikeouts, .316/.375/.912
Sandoval was actually hitting better than last year, but he also had more plate appearances. It's a creepy kind of coincidence, but the worst part of this deja-vu nightmare is that the Giants will have to stay afloat without the Panda for at least the next four weeks, if not longer.