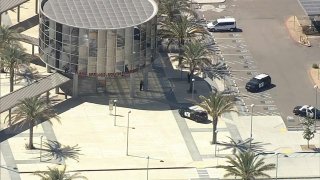 A man was stabbed on board a BART train Friday afternoon at the Warm Springs station in Fremont, according to the transit agency.
The victim was treated for a stab wound at the scene and then taken to a hospital, and police had one person in custody. The victim's condition was not immediately known.
Witness Anthony Montemar said he was on the nearly empty BART train around noon when, out of nowhere, he saw a man stab the victim. Montemar said the attack was unprovoked.
"I think this was just purely random," Montemar said. "I'm assuming it was something up with the guy that made this guy just stab this guy for no reason."
The Warm Springs station was shut down for about an hour, but normal service resumed at about 1 p.m., BART said.
An investigation is ongoing.