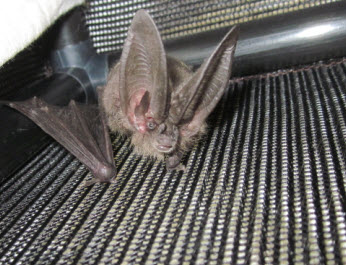 This story is about a rare bat who is beating the odds of survival in Half Moon Bay.

Sulphur Creek Nature Center animal care director Rose Britton has spent the past several months nursing a bat named Bugsy back to health.

Bugsy is a Townsend's big-eared bat. And as you can see from the photo below, the ear part really fits.

Britton said it was brought to her animal care center back in August suffering from a severe broken-wing.

The wing has healed, according to Britton, but Bugsy won't be able to fly again. Britton says instead the bat will be used to help educate children that bats are our friends.

While Bugsy teaches youngsters, he is thrilling the experts. Apparently Townsend bats are rarely found in the wild and basically never in captivity. Britton said some bat experts have told her that the breed is so sensitive it dies when touch by a human.

Britton told the San Jose Mercury News: "People seem amazed that we have one. I talked to bat rehabbers in Davis and Santa Cruz, and one of them said, 'I heard you had a live Townsend, but I didn't believe it.' "

If you happen to come in contact with a bat, the experts say it is best to call animal control. Although the numbers are low, one to two percent of the bat population has rabies.