Rebuilding is underway at Berkeley's Chez Panisse, an iconic, world-renowned restaurant that caught on fire last week. On Wednesday, crews sanded, painted and rebuilt parts of the front porch - and elsewhere - inside the Telegraph Avenue restaurant known for its organic, locally grown meals.
Just when the restaurant will open isn't exactly clear. Reservations are now cancelled through March 30, and Chez Panisse Manager Jennifer Sherman told NBC Bay Area she doesn't want to set up false expectations by nailing down a specific re-opening date.
Acting Berkeley Fire Department Chief Avery Webb said the fire is still under investigation, but it most likely seems as though the 3 a.m. blaze on March 8 was sparked under the porch because of an electrical problem. A sprinkler inside the building helped quell the damage, he said. Early estimates showed to be about $200,000.
The restaurant is made famous by its co-founder and chef Alice Waters, who was extremely emotional the morning of the fire: "I'm sad, very sad," she said last week, before quickly switching gears and adding, "Right now I just feel lucky." (To see some of her interview, click here.)
The chef and activist opened Chez Panisse in 1971, and she remembers another fire in 1982.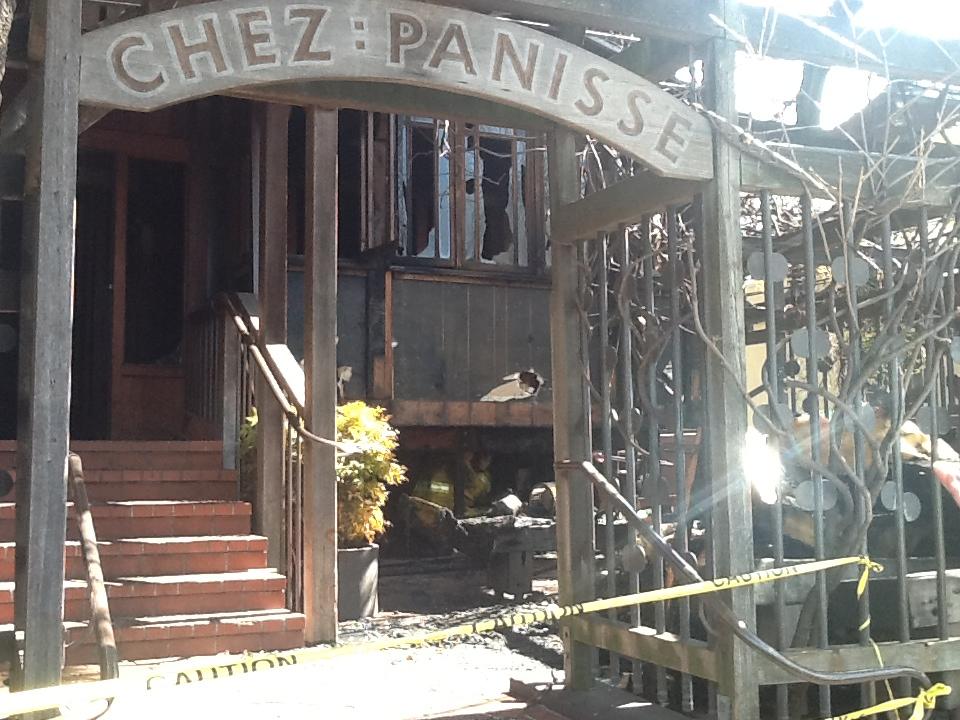 Since then, Waters has worked beyond the restaurant to promote cooking and eating healthy, locally grown food. She often works with schools to promote good eating with young children.
Waters is one of the most influential figures on the American food scene. And people from near and far flock to Chez Panisse for special occasions. Chez Panisse was recognized as the Best Restaurant in America by Gourmet Magazine in 2000, and since then, has won several more awards.
To see some of Alice Water's raw video last week click here:
View the story "Chez Panisse Fire in Berkeley " on Storify
]
NBC Bay Area's Jodi Hernandez contributed to this report. Contact Lisa Fernandez at 408-432-4758 or lisa.fernandez@nbcuni.com.