A San Jose school employee was arrested this week on suspicion of sexually assaulting a 13-year-old student on campus, according to the police department.
Aeneas Jailin Brown, 20, of San Jose was working as a librarian media aide at Sylvandale Middle School in San Jose when the teen girl reported to her parents May 26 that he sexually assaulted her while at school the week before, police said.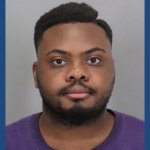 Brown was arrested June 1 in San Jose and booked into Santa Clara County Jail on a charge of lewd and lascivious acts on a minor, police said.
He appeared in court on Friday and was charged with two counts: a lewd and lascivious act on a child under 14, a felony, and annoying or molesting a child under 18, a misdemeanor.
Prosecutors said Brown used his job to groom the girl, using social media as well as his position to spend time with her, including pulling her out of class.
"The charge alone is obviously heinous in nature," San Jose police spokesman Steve Aponte said. "The fact that anybody who is purportedly to be entrusted with the safety and protection of children, providing them information from a library, were to do something like this is very serious."
The Silicon Valley Internet Task Force investigated and, according to prosecutors, the encounters led to inappropriate touching and other acts.
The judge said Brown must be supervised if he posts the $50,000 bail and could not come within 300 yards of the alleged victim or her home and cannot have any contact via social media either. He is scheduled to enter a plea on July 27.
The Franklin-McKinley School District sent out a letter informing parents about the case, saying it has no information about other possible victims but is encouraging parents to talk with their children.
"We're very happy that the survivor in this case came forward and actually provided this information," Aponte said. "It takes a very brave act to do that."
Anyone with information on other similar incidents involving Brown should contact Detective Gutierrez of the San José Police Department's ICAC/CED Unit at 408-537-1379 or at 3623@sanjoseca.gov.
Tips may remain anonymous by using the P3TIPS mobile app, calling the tip line at 408-947-STOP, or on www.svcrimestoppers.org.