On a recent day, the eyes and ears of marine biology rode a research boat past the Golden Gate Bridge — beyond the Farallone Islands some 27 miles off San Francisco's shores, to begin a 10-hour day of research that would surround them with whales, sea birds, and the chemistry of a changing ocean.
The journey marked the 50th time since the program launched in 2004 that the combined scientific forces of Point Blue Conservation and Science and the Gulf of Farallones and Cordell Bank National Marine Sanctuaries would head out to sea to document seabirds and mammals while taking a snapshot of ocean conditions.
"It's really hard to keep long term monitoring sets like this going," said Cordell Bank Researcher Danielle Lipski. "And so that is really meaningful that we've hit this milestone."
The team of researchers aboard the Fulmar have visited the waters of Cordell Bank and Gulf of Farallones National Marine Sanctuaries over 13 years — not only documenting the ocean itself but the visible creatures living there. They've studied it during El Niño years, during the strange phenomenon known as the "warm blob" and through growing concern over the increasingly acidic ocean conditions.
"We have seen a lot of variability between good years," said Point Blue scientist Jaime Jahncke. "We have seen bad years, we have seen cold years, we have seen really extreme warm years."
During the day-long treks, the teams pull-off a myriad of scientific studies. They navigate a series of fixed paths taking samples of ocean waters. They sample for krill — the main food staple of whales.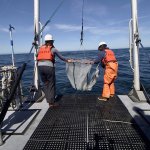 Then they settle in to ride pre-designated routes recording every mammal, seabird and vessel they see along the way. It was somewhat fitting that during the group's 50th journey landed in the middle of what they estimated were about 100 humpback and blue whales traversing and feeding.
Blue whales passed within yards of the boat, loudly belching up a blast of anchovy breath. Spouts filled the horizon in all directions as the sound of blow holes peppered the quiet tranquil waters.
"One of the very few times that I've been among, and in the mix of a hundred plus whales," said Point Blue researcher Ryan Berger. "It's incredible to see and just look everywhere around you — you just see spouts going on."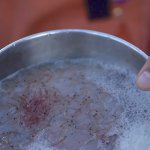 The team's data of increasing whale populations and habits has helped NOAA re-route shipping lanes away from the whales' regular pathways, helping to reduce the number of ship strikes. But Berger said there are increasing reports of whales snagged in fishing gear.
"We had 2002 to 2012 an average of 8 to 10 reports in California," Berger said. "In 2016 there were over 70 reports confirmed."
Berger said the group is hoping its data can shed more light on where fishermen's crab pots and whale trajectories intersect. The information could lead to a strategy to better keep the two separated.
"We're all coming together to share perspectives on how to mitigate whale entanglement," Berger said.