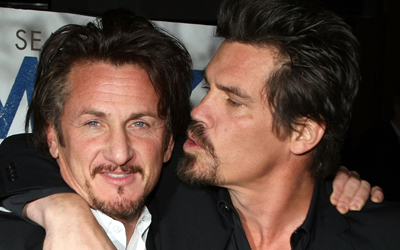 Note to Sean Penn: Cameras aren't for stomping and hotel bars aren't for the screaming -- unless you want to end up on camera.

The volatile and talented Oscar-winning actor -- and frequenter of San Francisco bars -- was captured on video having a temper tantrum, according to TMZ and others.

Penn, the Bay Area-based actor who starred in "Milk" and was known to frequent Tosca in North Beach, was in town to talk about Haiti at Salesforce.com's Dreamforce 2013 conference.
MORE: Haitian Prime Minister Tours Silicon Valley

Following the talk about saving humanity, Penn was in the hotel bar of the St. Regis when a fan -- who was a Dreamforce attendee -- dared to take a cell phone photo of the actor.

Oops.

Penn took the man's phone and "slammed it to the ground," according to the San Jose Mercury News.

"Do we look like [curse word] zoo animals?" Penn asked the man. "I'll make you eat the phone -- get the [curse word] out of here!"

TMZ, of course, has video of the incident, shot by more discrete individuals who were spared Penn's self-editing.

Penn complained to hotel management, who asked if the man wanted to call police. He did not.
Copyright FREEL - NBC Local Media