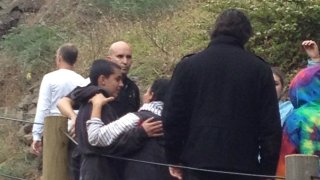 A brother and a sister were rescued on Thursday after an effort to retrieve a dropped phone left them stuck on a cliff nicknamed "Dead Man's End" in San Francisco.
Virginia and Johannes Van Zandt, 16 and 15 years old respectively, were out hiking near their home and stopped on the cliff at Land's End because Virginia said she "saw a really cool view."
While the two Lowell High School students were checking it out, Johannes dropped his cell phone. When they went down to retrieve it, Virginia told NBC Bay Area, the cliff started to crumble and they couldn't climb up or down.
Virginia said that she first called her parents about 4:45 p.m., who told her to call 911. She stayed on the phone with dispatchers until firefighters to harness ropes to the cliff and pull up the pair. Firefighters described it as a "very tense situation."
But the rescue was a success and brother and sister were reunited with the parents by dinnertime, giving interviews to the media - very calmly - shortly afterward.
Johannes admitted the whole ordeal was "a little scary."
"I was a little nervous," he said. "The rocks I was on kept breaking."
High angle #rescue Dead Man's Point #saferSanFran 2 minor siblings rescued at edge of cliff @nbcbayarea @mayoredlee pic.twitter.com/WFXmkX95Z6 — SF Firefighters 798 (@SFFFLocal798) July 10, 2015