A 22-year-old driver from Millbrae was arrested early Thursday morning on suspicion of drunk driving, Colma police said, after his car clammed into a car dealership.
Colma police detective Dawn Marchetti said the crash was reported at 2 a.m. in the 900 block of Serramonte Boulevard. The vehicle had hit several parked cars before it stopped.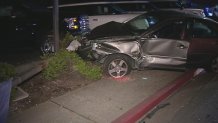 Firefighters treated the driver and a passenger at the scene.
Police booked the driver into the San Mateo County Jail.