An employee perk at some of the world's most well known tech companies is at the center of a heated debate over fairness and convenience.

While the buses aim to take thousands of cars off the road, traffic records obtained by the NBC Bay Area Investigative Unit revealed a growing problem that could put other commuters in danger.
Each workday, three million people travel across the Bay Area on roadways, railways, bike lanes, and bus lanes.

But for substitute teacher Sue Vaughan, the trip can be a rough ride. On days when she teaches, Vaughan takes Muni to get around San Francisco. But regardless of where she's headed, Vaughan said it doesn't take long before she's blocked by one of the hundreds of "Tech Buses" scattered throughout the city.

"They slow it down. They get in front of [Muni]. They slow it down," Vaughan said.
SAN FRANCISCO COMMUTER SHUTTLE NETWORK

Commuter buses shuttle an estimated 8,500 people each day from their homes in San Francisco to their jobs outside the city, according to a recent SFMTA study.

Private transportation companies operate the buses, but they're hired by some of Silicon Valley's biggest tech firms like Facebook, Apple, and Youtube.

Employees can catch a ride at one of 125 pick-up locations throughout the city, 100 of which also serve as public bus stops originally intended for Muni. It's an arrangement Vaughan believes allows private corporations to take advantage of public infrastructure.

"Absolutely they are taking advantage of the city. Absolutely," Vaughan told NBC Bay Area.

Shuttle companies boast they're part of a solution to get cars off the road. But city records obtained by the NBC Bay Area Investigative Unit revealed those buses may also be putting other drivers, bikers, and pedestrians at risk.

NBC Bay Area reviewed parking enforcement data and traced the license plates back to 16 of the biggest commuter bus companies operating in the city.

Records show that in 2014 and 2015, those bus operators received more than 800 citations for violations that include obstructing traffic and blocking bus zones and bike lanes.
COMMUTER BUS VIOLATIONS
[[377630881, C, 620, 338]]
Bauer Transportation is at the top of the list with 176 citations. It provides transportation for companies like videogame developer Electronic Arts.
Loop Transportation ranks second with 146 citations. Loop drops off riders to companies that include Facebook, Google, and Apple.
Compass (SFO Airporter) received 95 citations. Compass also buses workers to Apple, as well as Yahoo and Genentech.
WeDriveU ranked fourth with 89 citations. It shuttles employees to Google.
In addition to the violations cited by the city, NBC Bay Area cameras captured even more apparent violations.
Those include an SF Minibus shuttle, which transports workers at Adobe, double parked blocking a bike lane and pushing cyclists into the street.
In a statement, the company said they are working to prevent future obstructions by advising drivers to "keep circling around if the stops are not available."
Cameras captured footage of another bus heading to Google that redirected traffic after the driver stopped in the middle of the road.
NBC Bay Area also observed a private shuttle permitted to use Muni bus stops picking up workers at the curb and forcing a Muni bus to let riders off in the center of the street.
It's a frequent problem that San Francisco Supervisor Jane Kim told NBC Bay Area she's working to address. Kim believes those with disabilities and the elderly are now being put at risk because of safety hazards created by the private shuttles.
"I think the current program bends over backwards to accommodate these tech companies. I don't think we have to," Kim told NBC Bay Area. "Residents keep asking who is the city for, who do you represent? Do you represent all of us, or do you just represent a very small category of employers?"
Kim is now pushing the city's transportation authority to dramatically reduce the number of allowable bus stops for private shuttles by next year.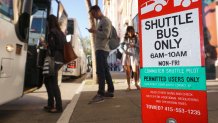 The city charges private shuttles $3.67 every time they use a bus stop. In July, that will rise to $7.31 dollars to help pay for more enforcement officers like Alicia Hopkins.
Hopkins is one of ten officers specifically assigned in the morning to monitor the more than 500 private buses that are permitted to pick up passengers across the city. Ten other enforcement officers are assigned to watch over the private buses during the evening commute.
NBC Bay Area shadowed Hopkins on a weekday morning where she gave out 6 tickets in less than 2 hours, including one to a bus heading to Apple for double parking and blocking oncoming traffic.
BENEFITS OF COMMUTER SHUTTLES
NBC Bay Area reached out to the top offenders on our list of violations. While most of the bus companies didn't return our messages, a representative from WeDriveU said "Citations are reviewed immediately, analyzed for prevention and paid promptly." Click here for full statement.
The owner of Bauer transportation also responded with a statement saying his company is working to avoid violations by training drivers and providing bonuses to those with the best records. Click here for full statement.
Rufus Jeffiris with the business advocacy group Bay Area Council represents companies like Apple and Google to help organize commuter shuttles throughout the Bay Area. Jeffris believes that despite the citations, the benefits of commuter shuttles far outweigh the negatives.
"The shuttles remove an estimated 2 million car trips a year from city streets, along with avoiding 2,000 metric tons of associated carbon emissions. So in terms of traffic impact, commuter shuttles are providing an enormous benefit," Jeffiris said. Click here for full statement.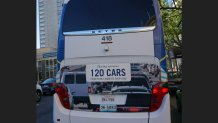 John Ford with Commute.org agrees. As Executive Director of the San Mateo County based government agency, it's Ford's job to find solutions to traffic congestion.
"I know it is a challenging issue for the people who were impacted by the bus stops, but I really think that from a regional perspective, this program is one of the extra things that we have that can help all of us reduce congestion in the Bay Area," Ford said.
Ford works with hundreds of companies like Google and Facebook, encouraging them to offer alternatives to cars, including incentives for workers who bike, those private buses.
Representatives from Facebook believe their efforts are making a difference. The company said in a statement, "Facebook is committed to easing congestion on Bay Area roadways. We're part of the MTA shuttle program which reduces over 51 million vehicle miles traveled, eliminates 2 million single-passenger car trips and removes 2k metric tons of carbon emissions a year. We're also working with regional government to explore the expansion of rail and ferry services. This is a start on tackling an important issue – we care about our neighbors and our approach is to listen and take action."
Still, Vaughan believes the private bus routes aren't just an inconvenience, they're illegal.
She helped file a lawsuit against the city of San Francisco that argues state law bans private companies from using public bus stops.

The city of San Francisco called that a misinterpretation of the law and on Thursday, a judge dismissed the case.
"They're allowed to interfere with our public transportation system and the city is letting them do that. This is going to get worse," Vaughan said.
Vaughan and other critics of the private buses hope to fight the ruling.
If you have a tip for the Investigative Unit email TheUnit@nbcbayarea.com or call 888-996-TIPS.Or you can email Bigad.Shaban@nbcuni.com.