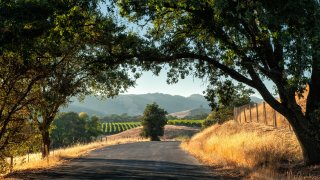 The following content has been created in partnership with Northern California Toyota Dealers. This content does not represent the opinions of the NBC Bay Area editorial team. Learn more about Northern California Toyota Dealers.
Often, driving is the best way to travel. Daytrips by car, in particular, can save you the most time and money. Plus, driving can serve up the best scenery—places where you can actually stop wherever and whenever your heart desires.
September and October, it turns out, can be optimal times for daytrips from the Bay Area. Here are several destinations worthy of a short road trip.
Napa: Harvest celebrations, the arts, balloon rides, and more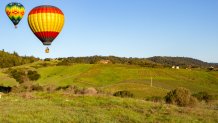 It's harvest time in the Napa Valley vineyards, making it a prime destination. Visitors can see all the bustling in the fields and enjoy the aromas of fresh-picked grapes—all during some of the year's most beautiful weather. Some highlights:
Harvest: As vineyard grapes reach maturity, wineries mark the occasion with special events. Visitors, for instance, can hop into barrels and stomp grapes, all while enjoying glasses of wine. For the less adventurous, there's harvest tours to see the wineries in action. Plus vineyards may hold outdoor concerts and dances and offer dining options.
The arts: When it comes to culture, Napa boasts art galleries, art walks, performing arts theaters, and museums. In fact, visitors can simply walk through town and stumble upon some 15 sculptures located throughout. And over at The Rail Arts District downtown, visitors will find murals created by artists from all over the world.
Breweries: Napa may be known for its "mastery of the grape," but hops, grain, and yeast too are having their moment. Craft breweries and taprooms are gaining popularity in the area, as a hearty selection of IPAs, ambers, wheats, pilsners, porters, and more, provide alternatives to wine.
Balloon rides: While touring Napa in a car can generate a certain Zen, drifting above it all literally takes you to the next level. Consider taking an hour-long ride at sunset in a hot air balloon.
Sonoma: Nature in all forms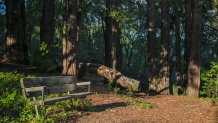 Like Napa, Sonoma sees some of the year's best weather in September and October, with temperatures ranging from the 60s to the 80s. Also, like Napa, visitors will enjoy plenty of harvest activities along with beautiful gold and red foliage in the vineyards. Highlights:
No less than 18 wine regions: When it comes to wine, Sonoma triumphs in diversity. The region hosts 18 American Viticultural Areas, which means oenophiles can find a variety of wine styles and grapes greater than in many other wine countries.
Outdoor nirvana: Those looking to drink in some nature along with their wine must stop at Armstrong Redwoods State Natural Reserve where they can gape at some of the tallest trees in the world. Another attraction in the region: the Russian River, where visitors can hike, swim, canoe, kayak, and more. As for cyclists, they can pedal through areas such as Trione-Annadel State Park, Bodega Bay Lodge, and Wildhaven Sonoma.
Local Farms: With its mild climate and abundant natural resources, the county provides prime conditions for agriculture. As such, there are a fine selection of farms and farmer's markets to visit. Cheese lovers even have a trail dedicated just for them.
Gold Country: History, suds, art, and, of course, gold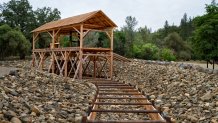 For drivers, cruising through the scenic vistas, quaint towns, and historic sights of Gold Country is indeed like . . . well, striking gold. Here's why:
A trip through history: Driving through Gold Country can be like taking a trip back to the 1800s. Visitors can stop at Marshall Gold Discovery State Historic Park, where they can learn to pan for actual gold flakes and visit The Gold Discovery Museum. Just strolling the quaint streets of Nevada City alone can make you feel like you've stumbled into another century.
A booming beer scene: While Napa and Sonoma are considered wine country, Gold Country can be a go-to destination for beer lovers. There's a craft beer boom going on in California, and Gold Country is serving up plenty. Sacremento and Auburn, in particular, are high on the hops.
The arts: Placer County has a thriving art scene. The Placer Artists Studios Tour showcases watercolor, glass-blowing, and craft galleries in towns like Colfax and Auburn. And for those who appreciate the art of gastronomy, there are stops at wineries and cheese shops along the way.
Ready to take that trip? One of Toyota's Hybrid vehicles is a great way to go. With style, reliability, and great fuel efficiency, getting to your destination has never been easier, safer, or fun. Click here to see what Northern California Toyota Dealers have to offer