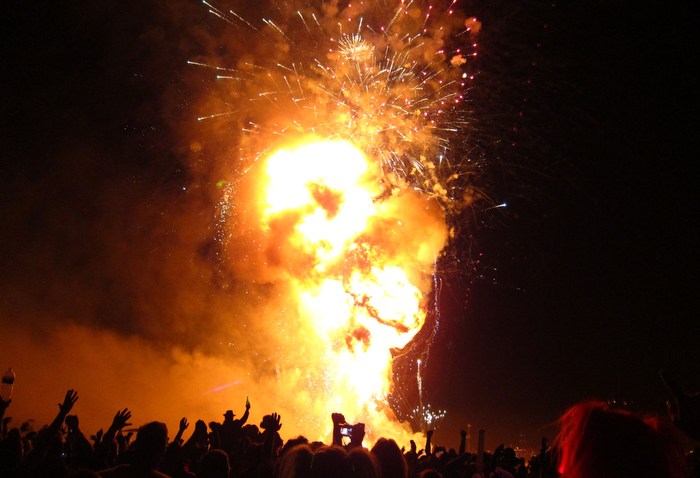 For the first time in 25 years, tickets for the this year's Burning Man sold out weeks ahead of time.

The sell out happened when organizers hit 50,000. But now that the man has burned, we are learning that Black Rock hosted 54,000 people this past week and that is several thousand too many for the U.S. Bureau of Land Management.
The eight-day camp-out is held every year the week prior to Labor Day at the Black Rock Desert, 120 miles north of Reno.
BLM spokeswoman Lisa Ross told AP the bureau will discuss the matter once the dust clears on the week long festival that ends Monday.
Ross said she thinks organizers sell more than 50,000 tickets on the premise that not everyone will show up. The BLM limits the party to 50K in order to protect the sprawling desert's environment.
Burning Man is an infamous counter-culture event known for self-expression, self-reliance and communal connections.
We have dozens of great photos at the top and side of this article.
Other than the number of people, Burning Man 2011 went off without many hitches. BLM officials reported no major problems during the event. There were a few arrests and a few dozen citations for drug related offenses. One man died of natural causes during the week and a plane crashed Friday night on arrival at the Burning Man landing strip, but there were no injuries.

The remaining stragglers are packing up and leaving Black Rock Monday. Everyone had to be out by sunset.