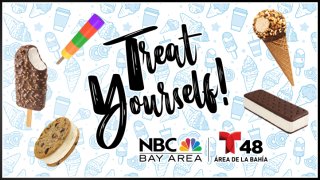 Enjoy a sweet treat – on us! For the second year in a row, NBC Bay Area is rolling out our Treat Yourself truck.
Starting again this spring, we will be in prime locations all over the Bay Area serving up treats and a chance to meet our news teams.
Check out the list below for event details and location of where our 'Treat Yourself' truck is off to next. Check back for more locations and dates to follow.
Hola Run San Jose
9 a.m. to 12 noon Saturday, May 4 in San Jose
Fremont Street Eats
5 to 8 p.m. Friday, May 10 in downtown Fremont
Dodgers vs. Giants
4 to 7 p.m. Friday, June 7 at Oracle Park in San Francisco
Diamondbacks vs. Giants
4 to 7 p.m. Friday, June 28 at Oracle Park in San Francisco
Mets vs. Giants
4 to 7 p.m. Friday, July 19 at Oracle Park in San Francisco
Chevron Family Theater Day
1 to 4 p.m. Saturday, July 20 in Walnut Creek
Fremont Festival of the Arts
1 to 3 p.m. Saturday, Aug. 3 in Fremont
Redwood City Music on the Square
5 to 8 p.m. Friday, Aug. 9 in Redwood City
Fremont Street Eats
5 to 8 p.m. Friday Aug. 23 in Fremont
Treat Yourself with Free Ice Cream