Firefighters in San Jose are investigating two suspicious fires Sunday morning and believe they may have been set by a serial arsonist that has lit fire to numerous buildings in the downtown area this week, a captain said.
The San Jose Fire Department responded to a small fire on the outside of a house on the first block of South 24th Street at about 1:55 a.m. That fire was in the same area that has been targeted by an alleged arsonist in recent days.
That fire was put out quickly and caused minimal damage.
Then, a second suspicious fire was reported in the lot of a church in the area of South 26th and East San Antonio streets at about 5 a.m., not far from the first fire this morning. No one was injured in either blaze
The San Jose Fire Dept. is urging people to be on high alert following this string of about a dozen fires, including one Saturday morning as well.
Investigators said they believe most of the fires were deliberately set and all of the fires were set on the outside of the buildings. All of them have been fast-moving, putting both residents and firefighters at risk.
On Saturday, the San Jose Firefighters Association put up a $10,000 reward for information leading to the arrest and conviction of the person, or persons, responsible for starting these fires.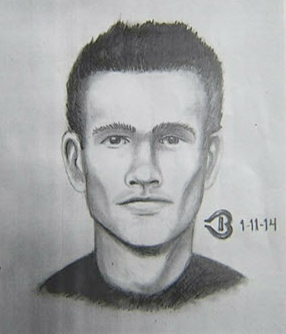 Investigators released a sketch of a person of interest based on witness descriptions and images taken from surveillance cameras.
He is described as a white or Hispanic man about 25-40 years old and 6 feet to 6 feet 2 inches tall, weighing between 160 and 180 pounds.
His hair is dark and medium-length, and he wears distinctive large frame glasses.
"We have experienced a rash of very dangerous fires that our fire officials will inform you have been intentionally set," San Jose Battalion Chief Robert Sapien said. "These fires have targeted San Jose residents in the darkest hours of the night when they are most vulnerable. We have been very fortunate that these incidents have not resulted in serious injury or death to our residents. Should these fires continue, I feel that this good fortune could run out."
According to investigators, the fires have all been set within a small geographic area during the early morning hours and are similar in nature.