Correction: The Santa Clara County District Attorney's Office previously told NBC Bay Area Washington was being charged with distribution of child pornography. The correct charge is posession of child pornography.
A star football player from the Bay Area, now a running back for the University of Nebraska, faces criminal charges under California's relatively new "revenge porn" law in connection to a video of a 15-year-old Bay Area teen allegedly being sexually assaulted, according to court records obtained by NBC Bay Area's Investigative Unit.
San Jose native Maurice Washington III did not record the video and is not part of the alleged assault involving his ex-girlfriend, who is now 18, and two former classmates. But Washington is accused of keeping the video on his phone and sending it to the victim last March, along with the message, "Remember this hoe [sic]."
Washington, who dated the victim during his freshman year at The King's Academy High School in Sunnyvale, is being charged under the "Revenge Porn" law because he's accused of sending the video to inflict emotional damage on the victim. Because the victim was 15 when the video was recorded, he's also being charged with posession of child pornography, a felony.
"I tried so hard to forget it, and then to have someone just throw it back in my face like that and taunt me with it was just so evil," Taylor, the victim, told NBC Bay Area on the condition we not use her last name. "Maybe that's the wrong word to use, but I felt like it was evil, like why would you ever want somebody to feel that pain that I felt that day?"
On Sunday, Washington's attorney, John C. Ball, issued this statement:
"This is a situation involving an inappropriate cell phone video. The allegations are that Mr. Washington sent that video to his high school girlfriend. Mr. Washington did not make the video, nor does he appear in the video. The incident is alleged to have taken place in California, several years ago. Mr. Washington will continue to be fully cooperative with the authorities in this situation. We are in contact with those authorities and are in the process of making arrangements to move forward and resolve this matter. Mr. Washington has confidence in our justice system, and knows that he can rely on the fundamental constitutional rights of due process and the presumption of innocence."
Ball issued another statement Monday afternoon, saying:
"The narrative put forth today is that Mr. Washington used a video as a weapon to re-victimize his former high school girlfriend. That is not true. Without a doubt, Mr. Washington had absolutely nothing to do with that sexual assault. The communications between these two young people are yet to be fully determined, and there are additional facts and circumstances that give context and perspective to this situation."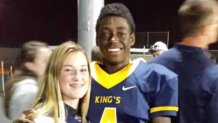 The arrest is bound to reverberate across the University of Nebraska campus, as Washington was one of the school's top recruits last year and was ranked by ESPN as one of the top running backs coming out of high school. According to a lead investigator on the case, the University was made aware of the allegations against Washington sometime last fall, but he was allowed to play through the entire season.
In a statement released Monday afternoon, a University of Nebraska Athletic Department spokesperson said:
"Last fall we were contacted by the Nebraska Attorney General's office and the University of Nebraska-Lincoln police department and made aware that officials in California were interested in interviewing Maurice Washington about a prior incident. Details were not shared and there was no additional follow up with the Nebraska Athletic Department. Recently, we were made aware that charges may be filed against Maurice in California. We have not had a chance to review the charges, and will continue to monitor this ongoing legal process."
The Video
Washington is the second person to be criminally charged in connection to the video, which was recorded in 2016 and depicts Taylor engaged in sex acts with two male classmates, both 17 at the time. One of the teenage boys depicted in the video was arrested in 2016 and placed on probation for distribution of child pornography after he recorded the video and sent copies to classmates, which soon spread like wildfire across the school.
"I was just like, 'Oh my God, everyone thinks I made a sex tape, everyone thinks that I'm some freak who wanted to have sex on video camera and send it to my school,'" Taylor said. "I'm 15 years old, how could you believe that?"
Although she did not report the incident as a rape at the time because she says she felt ashamed, Taylor told NBC Bay Area the video depicts a sexual assault, not a consensual sex act. Taylor alleges the teen boys in the video forced her into having sex after telling her they were going to a fast food restaurant. NBC Bay Area is not naming the teens because they were juveniles at the time and were never charged with sexual assault.
"They're driving this way, and I'm like, 'Jack in the Box is back that way,'" Taylor said. "And I said that probably 30 times to them, and eventually they pulled over at this park, with houses on the left-hand side, and they're like, 'We're going to have a threesome.'"
Taylor said she froze, terrified.
"That's when they started to rape me, and while I was being raped, they took a video that I had no idea about."
According to a Santa Clara County Sheriff's Department search warrant obtained by NBC Bay Area, school administrators at The King's Academy soon learned of the video and told anyone who had a copy of the video to delete it. Taylor said she and the two classmates in the video were forced to leave the school. Washington, according to the search warrant, still had a copy of the video.
"I was depressed, I started using drugs and alcohol, my grades plummeted, I stopped playing softball," Taylor said. "I wasn't happy anymore."
Taylor's father Brian said the family was trying to move on from the incident, but he supports her speaking out, and said the family is considering whether they will pursue sexual assault charges.
"Taylor's been struggling for a long time," Brian said, "A lot of ups and downs, way more downs than ups."
He said when he and his wife learned Washington allegedly sent Taylor the video in 2018, he was stunned.
"Getting the video was kind of like why are we going back here? I was angry, I mean this guy has no place in her life and I realize that she may have reached out to him but why would you want to punish somebody?"
In a statement, Scott Meadows, the Head of School of The King's Academy said:
"The incident in question did not happen during school hours, nor did it happen on school property. We can confirm that two students made a video during an off-campus encounter with another student, but school officials did not view the video. Instead, we referred the parents of the alleged victim to their local police department because of her age and because this happened after school hours. I would also add that Maurice Washington was not a student at The King's Academy at the time that this incidence arose. He withdrew to attend Oak Grove High School. His last day at TKA was February 11, 2016."
"Cases Like This Can Have Severe Consequences"
In early 2018, Taylor said she noticed Washington was on his way to a Division 1 football scholarship, and reached out on social media to congratulate him.
Taylor said she's not exactly sure why, but days later, on the morning of March 2, she received a text message from Washington's phone containing the 2016 video, along with a message, saying, "Remember this hoe [sic]."
Taylor said she suspects Washington may still harbor ill feelings towards her for breaking up with him freshman year, and said Washington had tried on previous occasions during high school to shame her and get her to watch the video.
Washington's text message, according to the search warrant affidavit, was actually intercepted by Taylor's step-mother, who monitors Taylor's electronic messages through an iPad tablet. She told Taylor not to watch the video, and immediately reported the incident to the Santa Clara County Sheriff's Department.
An investigator with the Santa Clara Sheriff's Department said the agency has been unable to interview Washington during the months-long investigation after making several requests through the University of Nebraska's Athletic Department, as well as Washington's former attorney, Jon Bruning, who is the former Attorney General of Nebraska.
The investigator said Bruning questioned whether charges would actually be filed against his client when contacted last fall by the Sheriff's Department.
"The general air was, 'Is this really as big of a deal as you're making it?'" the investigator said. "I explained to him that we do take these cases very seriously. Cases like this can have severe consequences, especially for the victims, throughout their entire lives, and we were investigating wholeheartedly because of that fact."
Bruning, reached Friday by NBC Bay Area, declined to comment on the case.
Washington, currently in Nebraska, is not yet in custody.
Taylor said she is still considering whether or not to press sexual assault charges against her two former classmates in connection to the video.
"At the time I was not ready to deal with it," she said. "I think now I am."
Taylor wrote an essay about what she says happened to her in the video, and what happened after it was spread around her school. You can read that here.
Luis Hernandez also contributed to this story