A Dublin neighborhood was evacuated Tuesday while Alameda County firefighters battled a 200-acre vegetation fire at Camp Parks, a nearby army base.
The blaze, which was 90 percent contained by late Tuesday night, burned between 50 and 60 acres by 2:30 p.m. then nearly doubled in size before 3 p.m. Winds fanned the flames, prompting evacuations at Wallis Ranch, officials said. The dozen or so residents who were affected have since returned home.
Resident Shuba Muralidhar said her parents had just eaten lunch when she looked up to see flames mere yards away.
"They were planning to nap and I said, 'No, we have to get out of here now.' So all of us are shaken up,'" Muralidhar said, adding that Dublin police officers were going door-to-door telling people to leave.
The fire sent a thick plume of smoke into the air, which could be seen for miles. People who live in the area and have respiratory problems were advised by fire officials to close their homes' windows and stay indoors.
Crews battled the brush fire from the air as well as from the ground, gaining the upper hand within hours.

Camp Parks, also known as the Parks Reserve Forces Training Area, is home to the Army's 91st Division, and has training facilities for reservists. More than 250 units representing 20,000 military personnel in the Bay Area make use of the installation. It was constructed during World War II and commissioned in 1943, according to the U.S. Army Reserve.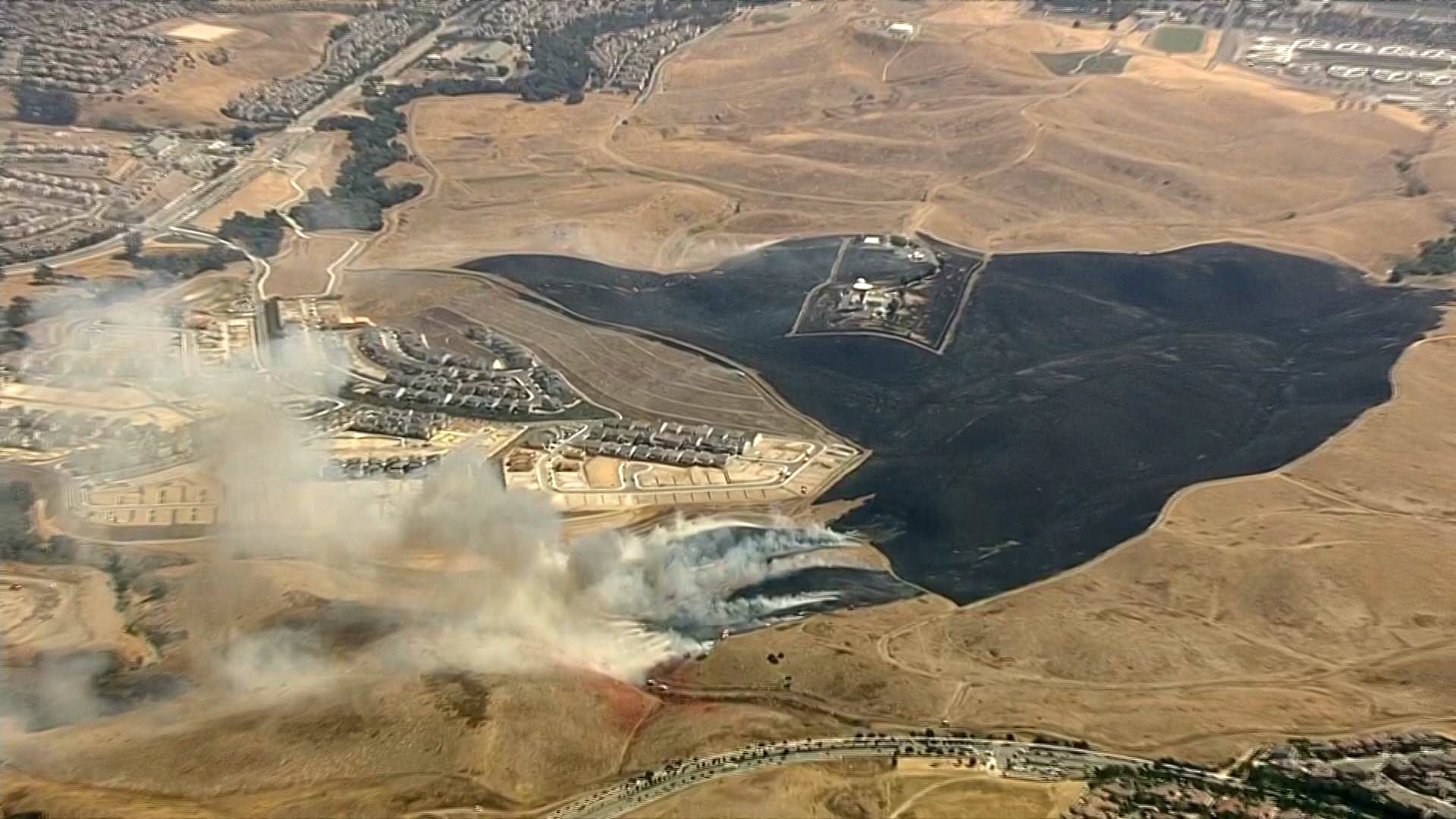 A $1 billion mixed-use project is planned on the southern portion of Camp Parks, which sits at the center of Dublin, according to the San Franciso Business Times.
When completed, the complex is expected to include 1,995 single- and multi-family homes and up to 200,000 square feet of commercial and retail space. The developer Dublin Crossing LLC is also slated to build a new school and two parks on the 189-acre project, the publication reported.
The first homes were scheduled to be completed sometime in 2017. It remains unknown if Tuesday's brush fire impacted construction.
Fire crews remain on scene to monitor hot spots. The cause of the blaze remains under investigation.
NBC Bay Area's Marianne Favro and Bay City News contributed to this report.