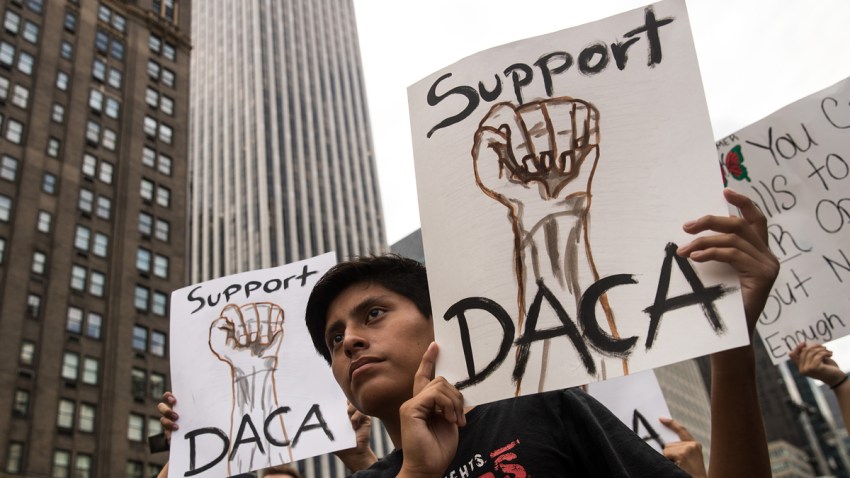 Danny Munoz doesn't remember her so-called "home country." The 18-year-old doesn't remember her parents taking her across the Mexican border, or the first few anxious years they spent struggling to lay down roots in the U.S.
But she does know she can't go back. She moved to Fresno when she was only two, and all of her memories, friends, and close family are here.
"My mom would clean houses and work two jobs just to pay rent," said Munoz, who is one of an estimated 400 DACA recipients studying at UC Berkeley. "My parents always told me that I was going to be their hope and that their sacrifices were going to be worthwhile for me."
"But now," she said, wiping away tears, "everything feels so uncertain."
Munoz isn't alone in her uncertainty. President Donald Trump's announcement that he would be phasing out the immigration program known as DACA — short for Deferred Action for Childhood Arrivals — sent shockwaves throughout the immigrant community on Tuesday, confirming the worst fears many had about a federal administration helmed by the blustery business mogul. The Obama-era immigration program had authorized young people, who were brought to this country illegally by their parents, the opportunity to work, study and live in the U.S. without the threat of deportation.
Trump has given Congress six months to formulate and pass an alternative immigration plan. Hanging in the balance are the 800,000 DACA recipients in the U.S., an estimated 50,000 of whom live in the Bay Area.
Following the announcement, students at local schools said they feared what it meant for themselves, their family and their friends. Meanwhile, teachers and administrators grappled with how to address a weighty, politicized topic that affected many of their students directly.
"I've been emotional all day," said Roxy Cruz, a graduate student at UC Berkeley whose brothers and stepmom are DACA recipients. "I've been crying all day about this. It's really exhausting to feel, all the time, like you don't belong. Like your family doesn't belong."
Carlos Garcia came to the Bay Area from Mexico when he was six, the average age of most DACA recipients when they first arrive in the U.S. He said the renewed threats of deportation had made him second guess applying to graduate programs this year.
"We're not criminals," Garcia said. "To send us back would be cruel. Not only would I not be able to finish my education here, but I wouldn't know how to live in Mexico City. I'm not even fluent in Spanish."
After the announcement, several Bay Area school districts sent out letters to parents and students, reminding them of the spate of sanctuary campus resolutions that were passed immediately after Trump's inauguration.
Yaquelin Lombera, who works at Pinole Valley High School's health intervention center and is also a DACA recipient, said attempts to ignore the issue in classrooms would be futile, especially as news of walkouts and student-led protests across the country lit up social media. She believes schools need to do more than send out a memo to assure students that they are still protected.
"We can't just say we're a safe space," she opined. "We have to actually create one. I want to see an action plan."
Yvette Felarca, a Berkeley middle school teacher and activist, led a demonstration at Sproul Plaza on UC Berkeley's campus Tuesday evening in support of DACA.
"'Dreamers' have a right to be free from the fear of deportation or being separated from their communities as much as anyone else," Felarca said, using the common nickname for DACA recipients. "We have to stand up and protect our communities."
Aware that the decision to end DACA signaled a pivotal moment in U.S. immigration policy, other teachers scrambled to incorporate the topic into class curriculum. Meg Honey, an A.P. history teacher at Northgate High School in Walnut Creek, asked students to come to class on Wednesday having read coverage of the decision from a variety of news sources.
"We're looking at DACA as to how it fits in with the long history of immigration policy in this country," Honey said. "It will allow us to engage some historical thinking skills in comparing and contrasting, looking at both progress and regression."
Noting that she saw "higher levels of anxiety" among some students since the election, Honey also said that she was using guidance published by the Southern Poverty Law Center on teaching with tolerance to help steer difficult conversations in the classroom.
For Munoz, those conversations are important. Knowing that she has a community rallying behind her has lifted her spirits, though the threat of uncertainty remains.
"We can't let our hopes and our dreams be ripped apart," Munoz said. "We're here to dream; we're here to accomplish better things for our family and our kids."
Garcia expressed similar sentiments.
"I really don't think Trump knows what he's up against," he said. "Our families fought hard to give us a better life, and we're going to fight to keep it, too.