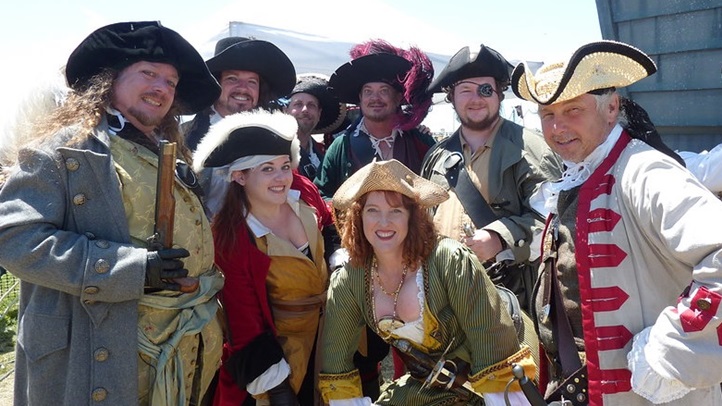 LET IT BE SAID, without a wink and without cheek and with the utmost seriousness, that the opportunity to don breeches and hosiery and shoes with buckles are sadly both few and, yes, far between. And if be-buckling your shiniest shoes, and donning a tri-cornered hat, the kind that comes with its own braiding and flair, is one of your joys, then you must constantly seek the places where such fashion'll be right in the flow. And come Father's Day, in Vallejo, that fanciful flow is all about people arrr-ing and thar-she-blows-ing and having a grand old time at the...
NORTHERN CALIFORNIA PIRATE FESTIVAL: It's been swashbuckling people right into the start of summer for ay, a good long piece of time, and fans return for the costuming, the eats, the activities, and as a way to have a fun Father's Day to-do with Dad and all the family, if the family is also into buckled shoes and the tales of the high seas. The 2018 dates are Saturday, June 16 and Sunday, June 17, a ticket is twelve dollars (modern dollars, not ye olde pirate doubloons) at the gate, and, indeed, it is right on the water, a pirate festival should be: Vallejo Waterfront Park is the spot.
AS FOR THE AVAST-Y ACTIVITIES? A shoppable area of "Fyne Wares" may be found on the grounds, there shall be kidly to-dos, like a costume contest, as well as "Sea Shanties, Thundering Cannons, Juggling Dare Devils, Historic Pirates, and so much more." Stop polishing your hilt and invite your parrot to hop upon your shoulder; it's time to find out, er, fynd out more information about the popular weekend-before-summer shindigs in Vallejo now.
Copyright FREEL - NBC Local Media