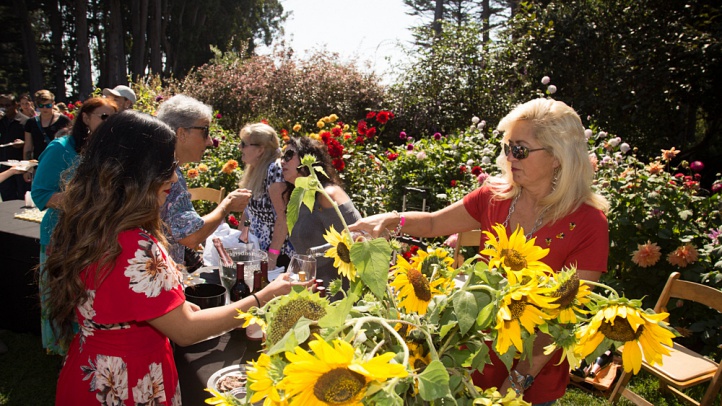 THAT PRE-FALL FEELING... that sends oenophiles 'round California into wine-oriented reveries? It exists in so many spots, but the Mendocino Coast becomes especially mellow, weather-wise, and September-esque as the summer winds down. It's kind of an ideal time to explore the region, but if knowing the area's wines is your main goal, and the good grub made around Fort Bragg and beyond, too, then a visit to Winesong should be a focus. It's an event, a very-end-of-summer to-do, and it raises money for a most excellent cause: the Mendocino Coast District Hospital. When to go, though, and what to do? Winesong flows over two tasty days,
FRIDAY, SEPT. 7 AND SATURDAY, SEPT. 8, with the Little River Inn serving as the lively, libationful location for the Friday night event and the Mendocino Coast Botanical Gardens flowering with fun on Saturday. The Friday event is all about pinot noir, so if that's your ultimate glass-filling go-to, be sure to get a ticket. And the Grand Tasting on Sept. 8? Wineries from the area, and Napa and Sonoma Counties, too, will be pouring, with "... bites from 40 fine food purveyors" adding the stylish sustenance to the alfresco event. Not just "alfresco," though, but close to the Pacific; the ocean-close location of the gardens promises you'll bask in a few salty breezes, too. You'll also bask in live and silent auctions, and maybe go home with a fine bottle of something local, if you're the top bidder.
FOR TICKETS, TIMES, and that Mendo-style sip 'n eat 'n give-back approach at this annual celebration, click.
Copyright FREEL - NBC Local Media