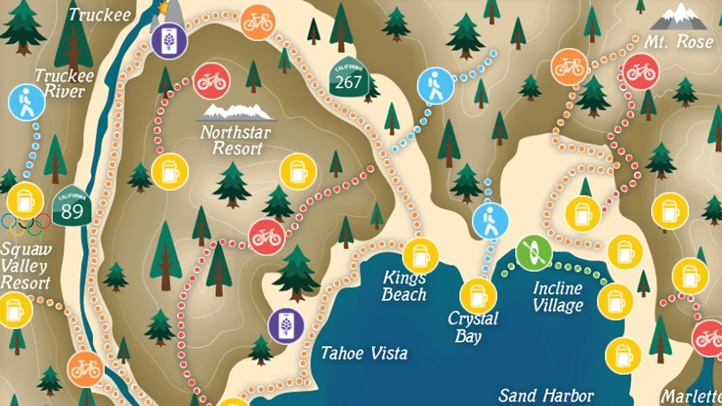 SO YOU'RE OVER 21, and you dig hanging out with your pops, and you have several interests in common, including meeting for a really solidly made craft brew. It isn't just the sipping part you dig, but the whole being-together, hanging-out-ish element, and whether you're discussing the IPA you're enjoying, or memories you've shared, or what's next on the list of your individual (and shared) life plans, well, the experience is sublime. And while we'd never suggest stepping away from your favorite go-to tavern for too long, there are places to see and pilsners still to try with your father.
IF YOU'VE BEEN PONDERING... what to get your main guy for Father's Day, besides another engraved stein or set of coasters from a famous brewery, there are a number of beer trails to visit, and, yep, one of the prettiest involves a lot of hiking, making it fresh-air'd experience (and one that doesn't require a car, if you're up for legging it a bit). It's the North Lake Tahoe Ale Trail, and the fact that Father's Day lands near the middle of June, one of the wildfloweriest times in the area, is all you probably need to know before planning this holiday outing.
ON THE INTERACTIVE MAP? Icons show where you'll want to hike, and cycle, and some of the venues you'll encounter (yep, those are depicted by a beer mug). The Mountain High Sandwich Company in Incline Village, PlumpJack in Olympic Valley, and the West Shore Market & Deli a skosh south along the lake are three tempting suggestions. Of course, you and your dad don't have to wait for Father's Day to visit the trail; it's doable whenever, when the weather is fine enough for a hike.
Copyright FREEL - NBC Local Media