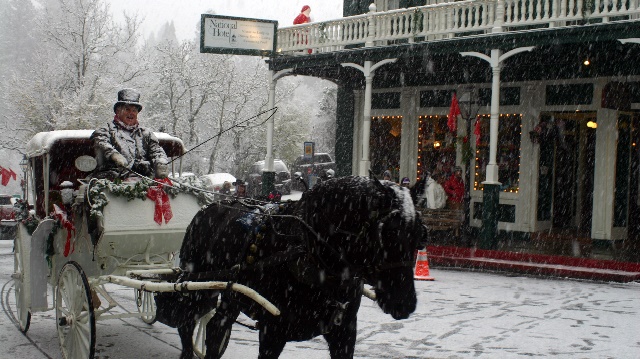 IF YOU'VE EVER BEEN INCLINED... to wish someone "glad tidings," or to say "good morrow" as you tipped your top hat at a stranger on the street, or to wear a spring of holly in the aforementioned top hat, you may have an affinity for Victorian manners, dress, and history. But if simply rereading "A Christmas Carol" and the other tales from the 19th century isn't quite enough for you come December, there is a place where you can don a top hat, and holly, if you like, and good-morrow it up if good-morrowing is where your heart is at. It's Nevada City, in the northern end of Gold Country, and it has been staging a sparkly street fair called...
VICTORIAN CHRISTMAS... for four decades now. Now, no, not everyone shows in costume, and you'll see more modern scarf caps come December than top hats down the town's main thoroughfare of Broad Street. But a few costumed revelers do show, and there are old-timey carols sung, and the authentic 19th-century buildings add to the general air of gone-back-in-time-ness. Roasting chestnuts lend more aroma, crackle, and flavor to the event, as do "sweet and savory pies" for sale and other goodies that seem to have hailed from a Dickens novel. The 2017 dates? Everything ye oldes starting on...
SUNDAY, DEC. 3: Victorian Christmas, as is tradition, runs over a few Sundays and Wednesdays in December, though not every single Sunday and Wednesday, do note. It happens in the afternoons on Sundays and in the evenings on Wednesdays, so if you want to see the bulbs lining the street aglow, show on a Wednesday. The final date for this year? Wednesday, Dec. 20, so dig out that top hat, the faux holly, your love of chestnuts, and the fun of being in an historic town as it is all done up for the season.
Copyright FREEL - NBC Local Media