A Philadelphia community is reeling after a 3-alarm fire raced through a Southwest Philly block early Saturday morning, displacing 32 people and killing 4-year-old twin girls, a 4-year-old boy and a 1-month-old infant.
One-month-old Taj Jacque and his older brother, Patrick Sanyeah, along with twin sisters Maria and Marialla Bowah perished in the massive blaze, which engulfed the 6500 block of Gesner Street shortly after 2:30 a.m. Saturday.
Dewen "Marie" Bowah, 41, was watching her twin girls, their siblings Naomi Bowah, Julie Bowah and Julisa Bowah, and babysitting Taj and Patrick at 6518 Gesner St. when a neighbor, Jeff Boone, stepped outside and noticed a yellow glow coming from the porch a few doors down.
Boone says the bright glow quickly turned into a full-fledged fire, engulfing a couch on the porch of 6516 Gesner St.
He says he called 911 and ran screaming down the street to wake up his neighbors. He was making his way to the firehouse just around the corner when he heard cries for help from young children trapped inside 6518 Gesner St.
"I heard them in there screaming," Boone said. "The flames were so high and intense that I couldn't go over there."
Dewen helped Naomi, Julie and Julisa escape by leaping through a second-floor window, but Dewen's niece says her aunt was unable to reach the remaining four children.
"She tried to take the kids," Nudde Saya said. "But the fire was everywhere, so she throw the oldest kids out the window and she jumped out the window."
One by one, the wooden porches on the two-story rowhomes went up in flames. Cars parked across the street melted from the heat and windows became disfigured.
Abu Marrah, who lives at 6512 Gesner St., was awakened by his wife and the sound of blaring smoke detectors. Black smoke swirled through his house as he ran around, partially clothed, to find the source. It was then that he realized the fire was spreading from his neighbor's house.
"Some people ran to the fire station and some people called 911," Marrah said.
Located about a block away, Ladder 4 Engine 40 arrived at the scene about three minutes after the call went out at 2:45 a.m., according to Fire Commissioner Derrick Sawyer.
"It was a tough fire fight. Heavy heat and smoke conditions," said Sawyer, who added that the call initially came in as a rubbish fire.
"They tried to contain the fire to the four homes," he continued. "But at some point, the fire extended to eight homes."
Neighbors said the street turned chaotic as they along with responding police and firefighters tried to determine whether people were inside the homes.
"I was sleeping and I had seen the fire," said Keisha Burgess, another resident. "I just woke up and grabbed my kids. The fire was just spreading and it was just everywhere, house to house. I had to wake up, bring my kids out and just get out."
Witnesses tell NBC10 they heard firecrackers go off moments before the fire began.
Sawyer said the Fire Department is investigating those claims, but both he and Mayor Michael Nutter said in a press conference Saturday afternoon that it was too early to say what caused the blaze.
Instead Nutter emphasized how deeply saddened he is by the loss of Maria, Marialla, Taj and Patrick.
"We lost four precious lives, four little, innocent children in a horrific tragedy on this street," Nutter said. "I feel a great pain."
"I can only pray that their pain was not long, that they did not truly feel and experience the intensity of this fire and the flames," he continued. "We pray for their souls and that God be with them."
Four others, including Dewen, and the mother of Taj and Patrick, 23-year-old Eleanor Jacque, were taken to the hospital. Dewen is in critical condition at Crozier Chester Medical Center.
The conditions of Jacque and the other two victims who were hospitalized is unknown.
The deadly blaze displaced 42 others, according to the American Red Cross of Southeastern Pennsylvania.
"This is an incredibly sad day for our community," said Judge Renee Cardwell Hughes, CEO of the Red Cross of Southeastern Pa. "Anytime there's a death due to fire it's significant for our community. I can't tell you how hard this is on first responders, on our volunteers but most importantly on these families. We have been providing spiritual care and mental health care to address their immediate trauma."
Financial assistance for items like food,clothing, shoes and medications was requested by 32 of those displaced. Eighteen are staying at the Red Cross House, a short-term recovery center in Philadelphia's University City neighborhood.
Hughes encouraged victims of the fire who have not yet come forward to contact the Red Cross at 215-299-4899.
(L to R), Four-year-old twin sisters Marialla and Maria Bowah, 1-month-old Taj Jacque and 4-year-old Patrick Sanyeah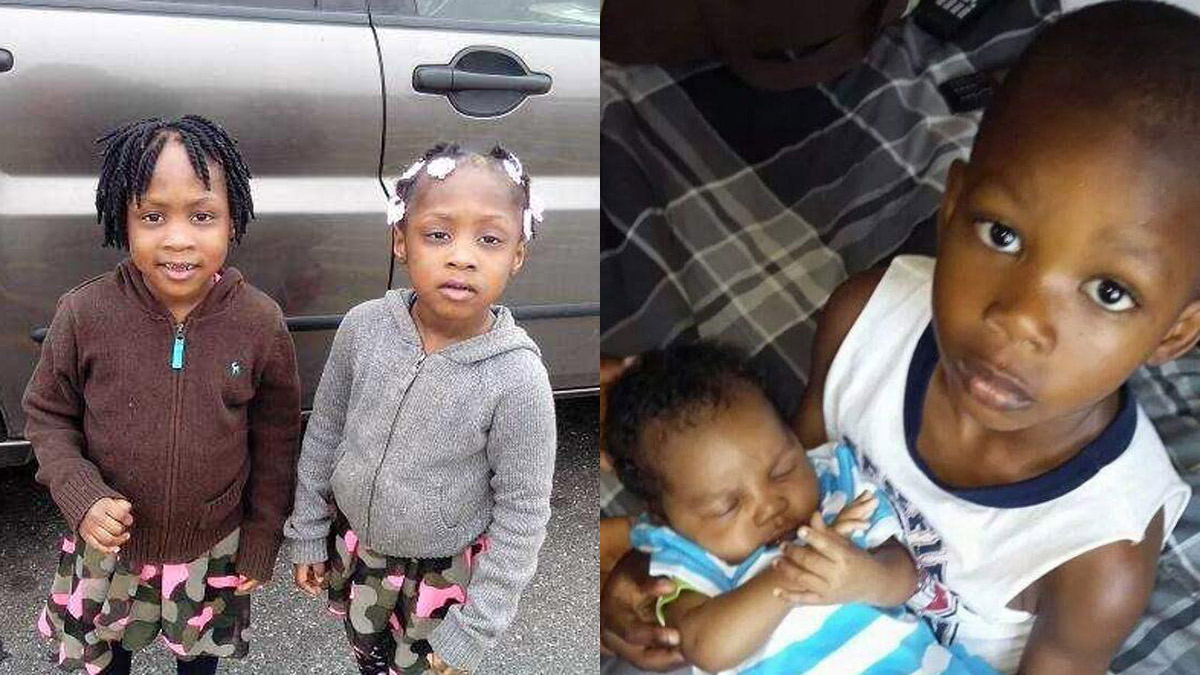 LISTEN: Scanner traffic as firefighters arrived at the scene of the fire:
A street view of the impacted homes prior to Saturday's fire. Credit: Trulia.com.
Candles, teddy bears and Spider-Man balloons were placed on the railing at 6518 Gesner St.