The Supreme Court on Monday allowed electoral maps that were challenged as excessively partisan to remain in place for now, declining to rule on the bigger issue of whether to put limits on redistricting for political gain.
The court issued a pair of unanimous rulings in partisan redistricting cases from Wisconsin and Maryland that decided very little, and ensured that any resolution by the nation's high court would not come before the 2018 midterm elections.
Proceedings in both cases will continue in lower courts. Meanwhile, the justices could decide by the end of June whether to take up a new case from North Carolina.
Still, the outcome was a setback for advocates of limits on what is known as partisan gerrymandering because they hoped they had finally found a way to prove their case to a long-skeptical Supreme Court and Justice Anthony Kennedy, in particular. There were two cases on the court's agenda, one brought by Democrats and the other, by Republicans.
Judge Blocks Trump's Migrant Non-Port of Entry Asylum Ban
The justices had a range of options before them, including a broad, statewide look at the issue in Wisconsin, where Republicans have a huge edge in the legislature in a state that is otherwise closely divided between the parties. A three-judge court in Wisconsin had struck down the map as unconstitutional.
In Maryland, Republicans sued over a single congressional district that was redrawn in 2011, as the state's Democratic former governor said, to turn a Republican seat Democratic. The Maryland case is only in its preliminary phase and has not yet had a trial. That will now happen.
Rather than endorse limits or rule them out altogether, the court decided each case on procedural grounds. In Wisconsin, the court said that the plaintiffs had failed to prove that they have the right to sue on a statewide basis, rather than challenge individual districts.
The majority opinion written by Chief Justice John Roberts in the Wisconsin case cast doubt on the broadest theory about the redistricting issue known as partisan gerrymandering.
Roberts wrote that the Supreme Court's role "is to vindicate the individual rights of the people appearing before it," not generalized partisan preferences.
The usual course when the justices find that parties to a lawsuit lack the right to sue, or standing, is to dismiss the case. But, Roberts wrote, "This is not the usual case."
So the voters who sued will be able to try to prove they have standing.
"This is definitely not the end of the road," said Sachin Chheda, director of the Fair Elections Project which organized and brought the lawsuit.
"There is no vindication for the state's rigging of the maps and disenfranchising of our voters here," Chheda said. "We know as well today as we did when we started that our democracy is threatened and we need to return the power to the people."
Republicans hold a 64-35 majority in the Wisconsin Assembly and an 18-15 majority in the Senate. Wisconsin's Republican legislative leaders, Assembly Speaker Robin Vos and Senate Majority Leader Scott Fitzgerald, issued a joint statement in reaction saying they were pleased with the decision and were confident they would ultimately win.
"Democrats have been using the maps as an excuse for their failure to connect with Wisconsin voters," Vos and Fitzgerald said. "We believe the redistricting process we undertook seven years ago fulfilled our constitutional duty, and followed all applicable laws and standards that are required in redistricting."
The unanimous outcome was unexpected because the justices appeared deeply divided about how to handle partisan districting cases. The outcome still only partially masked disagreement on the issue.
White Official Tells Black Woman He Belonged to Master Race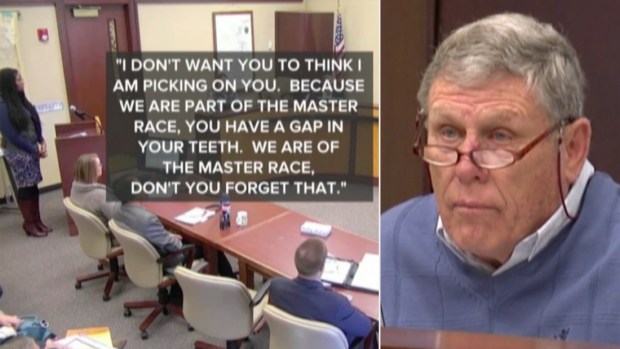 Justice Elena Kagan wrote a separate opinion for her three liberal colleagues that suggested how the plaintiffs might solve the problem of standing going forward. They also called on the court to decide the issue once and for all.
"But of one thing we may unfortunately be sure. Courts_and in particular this court_will again be called on to redress extreme partisan gerrymanders. I am hopeful we will then step up to our responsibility to vindicate the Constitution against a contrary law," Kagan wrote.
On the other side, Justices Clarence Thomas and Neil Gorsuch wrote that they would have ended the lawsuit and not given the Wisconsin voters another chance to make their case.
Kennedy, who had been viewed as the deciding vote on partisan redistricting, did not write separately Monday. In 2004, he wrote that he was not closing the door on limits on partisan gerrymandering, but that he had yet to find a workable way for courts to police the practice.
The next chance to weigh in is a case from North Carolina that seemingly addresses some of the high court's concerns. A lawsuit filed by North Carolina Democrats has plaintiffs in each of the state's 13 congressional districts. Like Wisconsin, North Carolina is generally closely divided in politics, but Republicans hold a 10-3 edge in congressional seats.
__
FDA Announces Crackdown on Cigarettes
Associated Press writer Scott Bauer contributed to this report from Madison, Wisconsin.