Dr. Warren Weinstein, of Maryland, and Italian Giovanni Lo Porto, hostages held by al Qaeda, were killed inadvertently during a U.S. drone strike in January. President Barack Obama apologized to the aid workers' families and said that in the fog of war sometimes "deadly mistakes" are made.
Other Americans citizens have been killed in strikes in Pakistan and Yemen, most accused of plotting against the United States.
The most notorious was Anwar al Awlaki, a radical Muslim cleric whom the American government targeted in a drone attack in September 2011 in Yemen. Born in New Mexico, he was considered a potential successor to Osama bin Laden.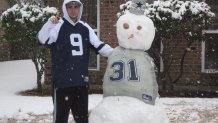 Killed with al Awlaki was Samir Khan, accused of editing the magazine "Inspire," published by al Qaeda in the Arabian Peninsula. The government said that the magazine inspired Boston Marathon bombers, Tamerlan and Dzhokhar Tsarnaev. Khan was born in Saudi Arabia and raised in Queens, New York. The United States was unaware that he was with al Awlaki.
Al Awlaki's 16-year-old son, Abdulrahman, who was born in Denver, was killed two weeks later while eating dinner at an outdoor restaurant in Yemen.
A fourth, Jude Kenan Mohammad, was killed in a strike in Pakistan in 2011. He had been indicted in North Carolina on charges of conspiracy to murder and provide support to terrorists.
Attorney General Eric Holder acknowledged that United States had killed the four in a 2013 letter to the then chairman of the Senate Judiciary Committee, Sen. Patrick Leahy.

The American Civil Liberties Union and the Center of Constitutional Rights filed a lawsuit in 2012 challenging the constitutionality of the killings. The lawsuit was dismissed in April.
The deaths of two other Americans accused of being terrorists were acknowledged by President Obama on Thursday.
Ahmed Farouq was killed with the two hostages on Jan. 14, in a strike in the Hindu Kush region along the Afghan/Pakistan border. Little is know about Farouq. Evan Kohlmann of Flash Intelligence told NBC News that he was a deputy commander of al Qaeda in Pakistan.
Adam Gadahn, a 36-year-old born in California and an alleged al Qaeda translator and key propagandist, was killed in a strike five days later in the same area. He had been indicted in California on charges of treason and providing material support for terrorism.
In a statement Thursday, the ACLU said the killings raised troubling questions about the reliability the United States was relying on to justify the drone attacks.
"In each of the operations acknowledged today, the U.S. quite literally didn't know who it was killing," the statement said.