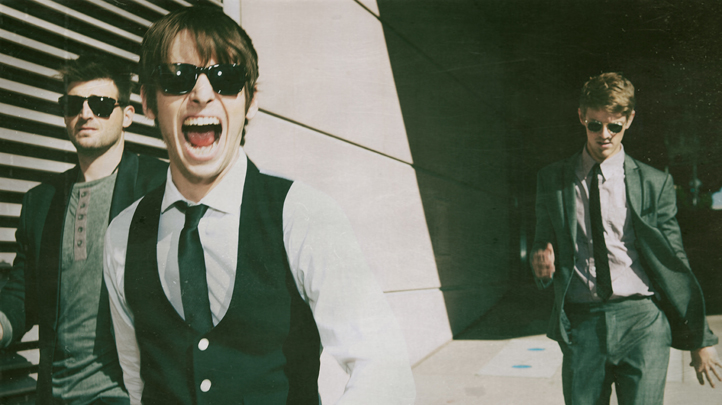 What if Foster the People picked you up on a bus… then took you to a location to volunteer and help the community? That's exactly what's happening as the band tours and partners up with the Do Good Bus to inspire community service and volunteering across the nation. As the band tours the country, so is the Do Good Bus--volunteers can just hop on and help with a special cause within each city. From feeding the homeless to recycling mattresses, the "Do Gooders" have really made a difference.
We talked to co-founder Rebecca Pontius (also drummer Mark Pontius's sister) about the Do Good mission, how a party bus brought about this charitable organization, and what the "Pumped Up Kicks" guys are doing to help!

Tell our viewers and readers a little bit about the Do Good bus and why think it's working as an effective model for other organizations.
The Do Good Bus is a mobile volunteering opportunity that combines a sense of community, giving back and lots of fun. Volunteers on our bus are whisked away to a mystery volunteer activity to get involved and meet like-minded people in their neighborhoods. We've visited over 40 causes across the U.S. and had over 1500 volunteers ride the bus. We truly believe in the power of teamwork and a community coming together to make a difference.

How did the idea of a bus come to be and where did you get the bus?
The Do Good Bus was an idea inspired by a party bus on my 30th birthday where groups of friends from various circles came together to celebrate. By the end of the trip, whether they initially knew each other or not, the group had created a little community. My business partner Stephen and I met volunteering and over the years have continually been asked, "How do I get involved? How do you know where to volunteer? How do you do it?". So, we took the idea of creating community among strangers and giving back in your own neighborhood, and threw people on a bus to show them how to do both.

We rent a different bus for each trip depending on our needs and how many volunteers we need to accommodate. We'd love to own a great old school bus someday and get a makeover from Pimp My Ride.

Each trip is different and the locations are different with each ride--how are volunteers responding to this aspect?
In general, people are excited about the mystery and the idea--all they have to do is show up. We also like to keep the destination a secret to ensure people don't have any preconceived ideas about the cause. This way, we show up to our location and people just have to dive in, they don't have time to think about it.

What has been the biggest surprise for the Do Good founders and team in putting this enterprise out there?
The biggest surprise has been response from all over the world. We get emails every day from people asking when the bus will be in their city. We also have people who want to start a similar project in their own neighborhoods… and they have! The best example is a couple in Utah who have already done their first ride by gathering friends in an SUV train of sorts. They're calling it SUV--Serve Ur Village. We are really excited the bus is inspiring people to get involved.

How did the Foster the People ride come about?
Since the band's inception, Foster The People wanted to incorporate a charity element in everything they do. They decided early on if they had an opportunity to use their voice and popularity for good, they will hopefully inspire anyone who might listen. Foster The People's drummer, Mark Pontius, is my brother and the two of us have always wanted to make a difference, so the band's newfound fame was a great leap into making a difference worldwide someday.

What are some future plans for the Do Good Bus?
We'd like to continue doing local rides in Southern California, but also looking into other tour options across the U.S., and hopefully some day internationally. We'd also like to branch out to other forms of doing good, sans bus.

How can our viewers and readers help if they're not in the L.A. area?
We are always in need of funds and support to keep the bus on the road. If there are Los Angelinos with skills they can offer or ideas for new causes to visit, we'd love to hear about it!

What is the one last thing that you would want people to know about the Do Good Bus?
Do Good Bus is an easy way to get involved in your community and have fun at the same time. You literally hop on and we do the rest.
Copyright LXTVN - LXTV