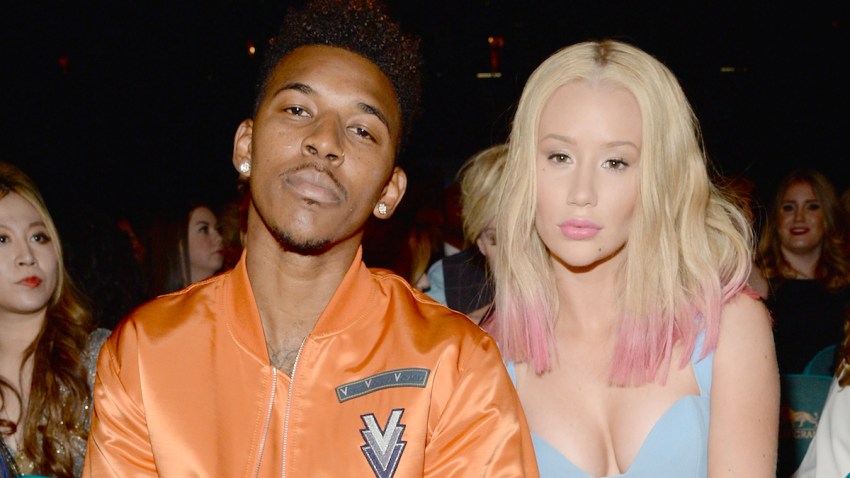 There will be no wedding this year for Iggy Azalea and fiancé Nick Young.
The 25-year-old Australian rapper and the NBA player got engaged last June at his 30th birthday party. His proposal came days after Azalea canceled a planned arena tour. In an interview on Ryan Seacrest's KIIS-FM radio show "On-Air With Ryan Seacrest" Friday, Azalea said she plans to tour at the end of the year, which has delayed the couple's nuptials.
"I'm planning my wedding, actually moved my wedding 'cause I have to tour so my wedding plans are changing," she said. "It was going to happen at the end of the year but now I have to go to work so we'll probably have to wait until the end of the next basketball season to do that. So that kind of is a bit sucky, but it's all right."
Young, Azalea said, is "really awesome and great and totally understanding and does not mind" postponing their wedding.
"He wants to be, like, he's like, 'I can be a bachelor for longer' and like, he's really milking it, he's really milking the whole thing," she said. "So he's really happy. Any time he wants to like, go out with the boys, he's like, 'This is my last summer being a bachelor!' So he likes that."
In a recent interview with Schon! magazine, Azalea talked about how wedding planning, working on her second studio album, "Digital Distortion," arranging a world tour and dealing with negative press made her feel overwhelmed, saying, "I had to have a psychotic break-down last year. I felt tired and stressed out. Now, I feel like my energy's been renewed."
"This wedding was ready but I think that's it's, you know, my last tour I canceled, I had a lot going on," Azalea told Seacrest. "I just felt like the last time I got to a point where I was kind of burnt out on the music, by the time I got around to touring, 'cause my album had been out for over a year. I don't want to have a risk of that happening again."
Azalea said her new album is set for release in June. The first single, "Team," the rapper's first new track in almost a year, dropped Friday.
"It would be really nice to tour, you know, August, September, October, and have that music be fresh and have me still be in love with it and performing it and everybody having a good time," she said.
Meanwhile, some of the wedding planning has been completed; Azalea said has already picked out her dress. Last year, she teased on Instagram a sketch of a bride wearing a Giorgio Armani Privé creation.
Not unlike most grooms-to-be, Young cares only about two aspects of the wedding, according to Azalea.
"Nick only cares about the food and we're not up to that yet," she said. "He's like, 'Just tell me about the food. When we get to food, let me know and other than that, I do not care.' Food and music."
The two had already booked their honeymoon, Azalea said. "Now our honeymoon's just going to be our vacation and then I'll pick another honeymoon," she said.
PHOTOS: Celebs who have had plastic surgery
READ: Iggy Azalea Wants a "pretty traditional style wedding" With Nick Young, talks plastic surgery
Copyright E! Online