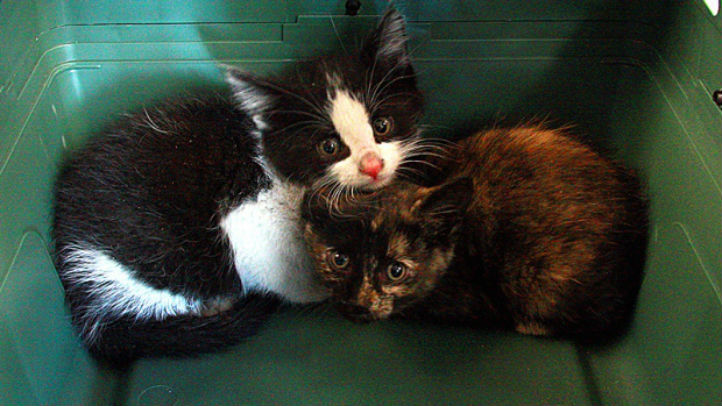 Workers at the Edmonton Humane Society are calling the survival of two kittens "a miracle" after they made a five-day train trip from Chicago to Edmonton, Canada with no food or water.
The kittens were found by a worker who heard a "meow" in a container that was stowed on the train for an estimated five days and discovered the two kittens.
The worker took the two one-month-old kittens to a nearby humane society where workers say they were dirty, timid and extremely hungry.
"No one seems to know how they got in there," said Shawna Randolph, spokeswoman for the Edmonton Humane Society. "We're pretty sure they just got stuck in there and was sealed up and no one knew they were inside. It is a miracle that they are alive."
Randolph said the train ride from Chicago was a five-day trip, but the kittens could have been stowed away in the boxcar for longer.
The shelter said the kittens could have been placed in the container by a stray cat that didn't make it back to the train before it was sealed.
"We'd hate to think that someone purposely put them in there," Randolph said.
But despite the lack of food and water, Randolph said the shelter's medical team expects the kittens to survive.
"They're still extremely timid, but they have full tummies now," she said. "They were extremely hungry and thirsty but otherwise OK, which is just astounding."
The miracle kittens were dubbed Chicago Joe and Boxcar Willemina.