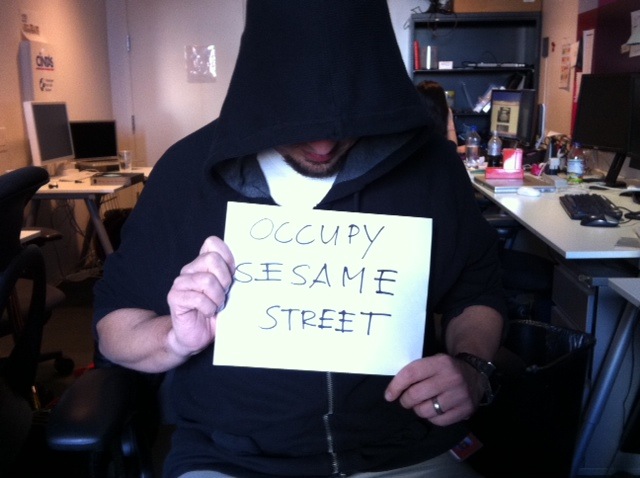 Costume stores have a very interesting business model. Most of the year, these shops are a veritable wasteland of untouched merchandise and indifferent staff. Then, for about a month and change, they sell cheap products at an outrageous markup to the generally accepting public. Ask about a return policy, and you'll likely be met with an eye roll from the girl who thought it was a good idea to get the bull piercing in the middle of her nose (You can bet they don't have a good return policy on those either). While the craftier costumer is perfectly content to make his or her own costume out of a little makeup and old clothes (for example, you can pick up some of those paste-on gunshot wounds, roll around in a sewage drain for a while, and be Gaddafi for a night!), most people have no problem dropping top dollar for second-rate props that wouldn't cut it in most high school productions of "The Nightmare before Christmas".

Every year, I find it harder and harder to find a costume that I A) am willing to spend an entire evening wearing, and B) am willing to drop a considerable amount of change to own. Last year, I decided that I was not going to dress up. Then, after some extensive nagging from my friends not to be "that guy", I went to a costume shop two days before Halloween. Remember when I alluded to one of these places being a wasteland in the off-season? Try going on October 29th.

"Do you guys have something for Indiana Jones?"
"All out of Indy."

"What about, a… wizard or something?"
"I wouldn't count on it."

"Spider-man?"
"I might have something in the toddlers section."

I settled on a $30 police officer costume that consisted of a pair of handcuffs and a police badge that read "Special Forces". The badge didn't delineate exactly what body of law enforcement I belonged to, but for that much money I'm glad someone was telling me that it was special.

So this year, I think I'm staying home. I'll spend the evening with Freddy and Michael, maybe pick up some candy corn, and just relax. I'm a bit older, and all I really want this year is a stress-free Halloween. But if I catch enough flack for staying in when everyone else is out, I guess I can pick up a cookie monster mask and a protest sign reading "OCCUPY SESAME STREET!" Even if the mask does cost $20.

Steve Madura is a production assistant for NBC's 1st Look.
Copyright LXTVN - LXTV