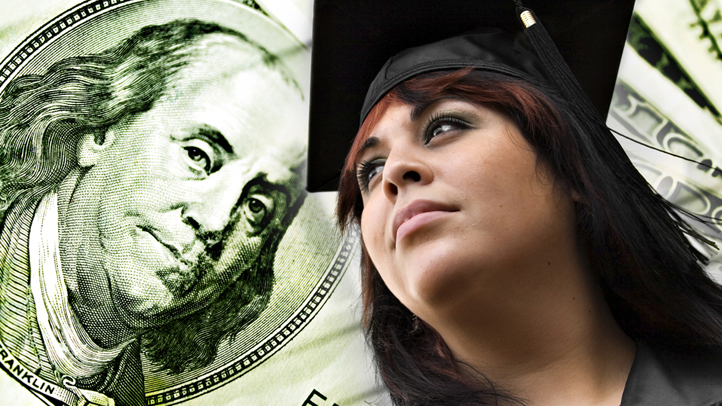 It wasn't a chain gang. But that was the message University of California students sought to convey as they showed up in orange prison garb, complaining to UC Regents that they were "sentenced to debt" due to ever-rising tuition.
The Regents, gathered in a rare Sacramento meeting near the state Capitol on Wednesday, were forced to temporarily suspend their open meeting and retreat behind closed doors for a time, as students engaged in a loud and sustained chant.
The police presence at the Sacramento Convention Center was heavy.
Wednesday's protest comes just two days, of course, after Gov. Jerry Brown proposed a $38 million cut to the UC system.
That cut would climb by another $250 million if voters turn thumbs down to a temporary tax package initiative in November.
This is all part of the annual budget ritual. But students appeared anxious to kick off what will be a long month of protests leading up the deadline for passing a budget in mid-June.
It's likely that the university's governing board will vote in July on a six percent tuition hike.
That's in addition to an 18 percent boost last year. University officials say the increases may be unavoidable. But that would be easier to believe, critics note, if they weren't also making expensive hiring decisions.
The new chancellor at UC San Diego, Pradeep Khosla, will be paid an annual salary of $411,00, in addition to benefits.
Kevin Riggs is an Emmy-winning former TV journalist in Sacramento. He is currently Senior Vice President at Randle Communications.
Send us your thoughts via Twitter @PropZero or add your comment to our Facebook page.