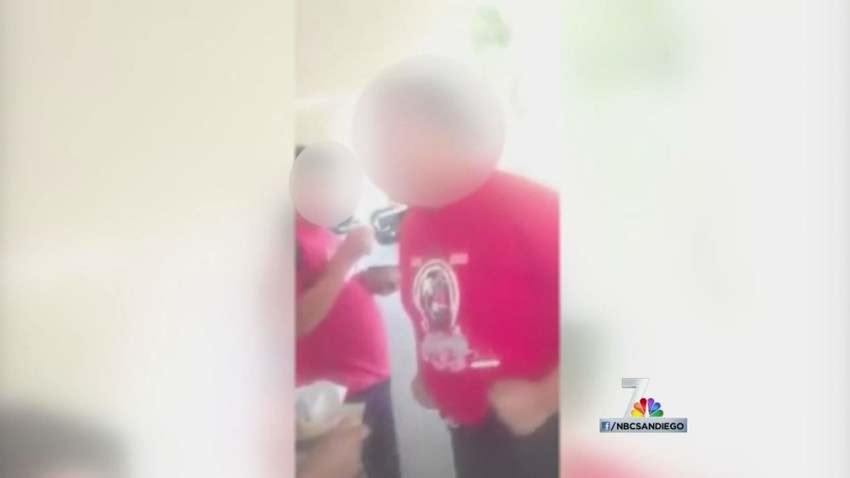 School police have arrested a student after he was caught on cellphone video beating up a freshman at a San Diego high school.
The victim's family says he is being bullied because he is gay.
The video appears to show a freshman student walking around an outside corner of Morse High School last Thursday at lunch.
He is confronted by another student in a red t-shirt who starts yelling at him. That teenager stars punching the freshman, hitting at least 10 times in the face.
When the victim starts running away, the other student chases him, grabs him and punches him to the ground.
Though they did not want to do an interview with NBC 7 Wednesday, the victim's family has expressed frustration with how the school handled the incident. According to them, the school did nothing to reprimand the alleged bully until two days after the incident.
The San Diego Unified School District said, "We can confirm that after the video surfaced, it was turned over to School Police for a full investigation and that, yes, a police report was filed with school police. The suspect was arrested and released to his parents."
That arrest took place on Monday.
The family says their son has gotten multiple threats in the past but the school did not do anything about it. They say the student's punishment is too little, too late.
NBC 7 asked the district what the protocol is for incidents like this, but they have not gotten back to us yet.
Late Wednesday, the district sent this statement:
"The San Diego Unified School District is firmly and deeply committed to creating safe and inclusive learning environments for all of our students and employees. We immediately engage in any claim or report of bullying or harassment of any individual in our school community, including those who are members of the LGBT community. The isolated event at Morse High School was immediately and thoroughly investigated and appropriate disciplinary measures have been taken. All parties involved have an opportunity to learn important lessons about tolerance and compassion."