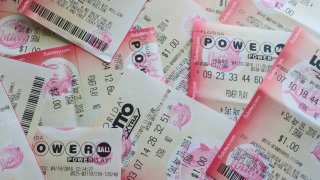 A Powerball ticket in Arizona hit all the right numbers Wednesday night, giving one lucky player a $473.1 million jackpot after strong ticket sales drove the prize higher than earlier estimates.
The winner purchased the ticket — with the numbers 11, 36, 61, 62, and 68 and a Powerball of 4 — at a QuikTrip convenience store in Gilbert, Arizona, a suburb of Phoenix, according to a representative from the state's lottery.
It's the biggest-ever jackpot won on a single ticket in the state, Arizona Lottery said, and Executive Director Gregg Edgar called it "a life-changing moment for this winner."
"We are excited to celebrate this huge $473.1 million Powerball jackpot win for one very lucky Arizonan," he said in a statement released early Thursday. "It also means millions of dollars to our state's economy, to this winner's community, and to the vital programs and services funded by Arizona Lottery ticket sales."
Arizona is one of a minority of states in the U.S. that allow winners of $100,000 or more to remain anonymous, meaning the identity of the winner may never be announced. Delaware, Georgia, Kansas, Maryland, Michigan, Texas, North Dakota and Ohio have similar rules allowing anonymous claims when the prize exceeds a certain amount.
Anonymous or not, the lucky winner can choose to either take the $473.1 million prize via the annuity option, which means it is paid out over 29 years, or a lump-sum payment of $283.3 million. Nearly every winner selects the cash option.
Both prize options are subject to taxes.
A rush of ticket sales rocketed up the final figure for Wednesday's winning ticket — the third of 2022 — after no winning ticket won the jackpot in the prior drawing Monday, or the previous 29 times before that.
On Jan. 5, two tickets in California and Wisconsin split a $632.6 million jackpot – the seventh-largest prize in Powerball history. Then, in the Feb. 14 drawing, a ticket in Connecticut won a $185.3 million jackpot.
Drawings for Powerball are held each Monday, Wednesday and Saturday at 10:59 p.m. ET. The estimated jackpot for the next drawing on Saturday has been reset to $20 million, or a $12 million cash value.
The longer the game goes without a grand prize winner, the larger the payout will grow.
Powerball is played in 45 states plus Washington, D.C., Puerto Rico and the U.S. Virgin Islands. The chance of winning the jackpot is one in 292.2 million.