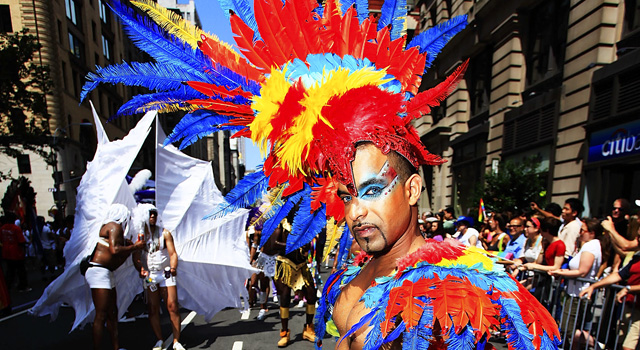 The Pride Parade went on as planned Sunday, event though one man was killed at a gay pride event in the Castro District Saturday night. Stephen Powell died early Sunday after being shot in the chest. Two others were also shot, but are expected to recover.
"This was definitely not a hate crime," said Officer Phil Gordon told the Chronicle. "We think they (the shooter and at least one victim) knew each other."
San Francisco police have a suspect in custody. He is a 19 year old man. A handgun was also recovered by police, according to investigators.
The 40th annual gay pride weekend started Saturday at Civic Center Plaza, where thousands converged as vendors sold barbecue and burritos and DJs spun tunes on a large stage.
"It's part political, it's part a party," said Darryl Groom, 55, explaining the elements that brought him and his partner, Tobey Tam, 41, to San Francisco from Cape Coral, Fla.
As it is every year, crowds were huge in and around the City Sunday as people packed Market Street to watch or take part in the Gay Pride parade. The parade attracts tens of thousands of people, and a growing number of those are not in the LGBT community.
San Francisco's Mayor Gavin Newsom stood with the crowds as he waited to take his ride down Market. Many called out their thanks for his work to get marriage equality legal.
The year 2010 sees San Francisco Pride creep up on middle age -- it began in 1970. This year's theme is 40 and Fabulous. The first three pride celebrations in San Francisco didn't have a theme. Finally, in 1973, they came up with one: A Celebration of the Gay Experience.
Fast forward to today and this still is a celebration of the gay experience -- an all-inclusive one. From films to music to vendors to history there is something for everyone.
Also over the weekend, volunteers unveiled the iconic one-acre pink triangle atop Twin Peaks.

Nazis used pink triangles to denote homosexuals during the Holocaust but now gays embrace the symbol as a way of showing their pride.

Last year, an act of hate nearly destroyed the symbol. Vandals set fire to and shredded the tarps that make up the massive triangle. Flames could be seen for miles. The volunteers weren't deterred and worked hard to replace the 75 damaged tarps, giving the 200-foot triangle a fresh new look.
The rainbow flags are also flying in New York City.
The city's annual parade celebrating gay pride features thousands of marchers, along with floats and, of course, politicians.
Mayor Michael Bloomberg and Gov. David Paterson are among the marchers Sunday.
Copyright AP - Associated Press