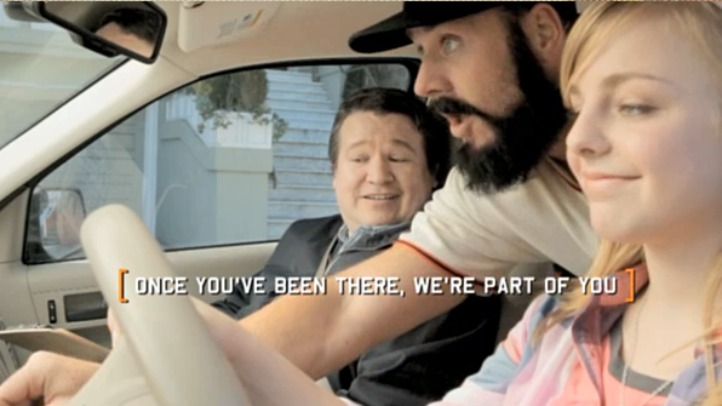 There's a good chance that by the end of the season, you might be tired of seeing commercials featuring the Giants (especially if they aren't winning). But with less than a week before the season kicks off, checking out the 2011 set of commercials is an absolutely worthwhile venture.
Mainly because they're flat-out hilarious; I'm not lying when I say I laughed out loud (or, if you prefer the newest Oxford English Dictionary term, "LOL'd") at every single one.
The primary theme, as you'll see, is that the Giants are a wild group of merry pranksters. And that's probably not too far off. You can watch the full set at the Giants' official website, but we'll break 'em down below, along with screenshots.
Driving Test:


Setup: Brian Wilson, Bruce Bochy and Pat Burrell step in to help a young lady who's doing her best Haley Dunphy impersonation while out on her driving test.
Money Line: "So why don't we cut down the attitude ... and turn up the volume" -- Brian Wilson
Setup: The lame boss needs the protagonist to hang around the office late that evening. As you can see above, the team's all like, "DUDE, BRO, COME ON!"
Money Line: I mean, there's not really one. They're all whispering.
Setup: It's kind of obvious, right?
Money Line: "WOOOOOOOOOOO!"
Setup: Some poor guy's in a Sunday confessional, the priest is listening ... but he's got some friends.
Money Line: "Are you kidding me? That's it? That's all you've got?"
Birds and the Bees

Setup: A poor young man is getting "the talk" over breakfast.
Money Line: "Well, this is awkward."
Break Up

Setup: A young lady's dumping her beau. Fortunately, Andres Torres and Cody Ross are there to provide some advice.
Money Line: "Dude, check the cuticles."
Parade: Together We Are Giant

Setup: A quirky twist on a parade celebration, with Journey blaring.
Money Line: "Wait'll you see the party at Zito's house."
So, yeah, all-in-all, it's a pretty incredible collection of commercials -- originally I was going to give every single one of them a grade. But handing out a pile of "A+" grades seemed kind of redundant.