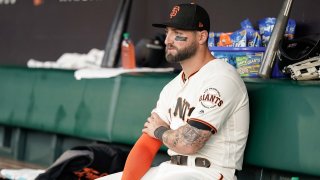 SAN FRANCISCO -- It didn't take long for Kevin Pillar to win over the fan base and his new clubhouse, but Pillar's run as a Giant is over after just one season.
The Giants non-tendered Pillar before Monday evening's deadline, making him a free agent for the first time. Pillar, acquired the first week of the season from the Blue Jays, led the Giants in homers, RBI and stolen bases, but there were other issues in his statistical profile and the organization preferred to go with a younger group in the outfield. Pillar was expected to make about $10 million in his final year of arbitration.
"It was a difficult decision. It was a baseball decision, not a financial decision," president of baseball operations Farhan Zaidi told NBC Sports Bay Area. "We want to make sure that we can provide the opportunity to some of our younger outfielders who have emerged over the last year."
That group includes Mike Yastrzemski, who tied Pillar for the team lead with 21 homers and could see plenty of time in center field next season, Austin Slater, and Alex Dickerson who agreed to a one-year deal Monday worth $925,000. Two young prospects, one acquired by Zaidi and one he inherited, will also get a long look.
"Jaylin Davis got a little bit of big league time and we want to make sure he gets an opportunity," Zaidi said. "Steven Duggar is coming off an injury and we're expecting him to be 100 percent coming into camp. I would still expect us to add to that picture by looking at free agents and trades.
"The versatility of a couple of those guys to play center field may give us an opportunity to add an impact bat in one of the corner spots, which is something we've talked about all offseason. We're looking for offensive production and a way to score more runs. We're going to have financial flexibility to explore those avenues in trades and free agency, but an equally important part of this is making sure we're creating an opportunity for some young players."
That group includes Davis, a 25-year-old who was acquired at the deadline and hit 35 homers in the minors last season, and Duggar, a 26-year-old who once looked like the organization's center fielder of the future before shoulder injuries stalled his progress. Yastrzemski appeared more than capable of handling center field when given limited opportunities last season, and the Giants also could go with a wild card who might be the most intriguing option of all.
When Mauricio Dubon was picked up from the Brewers before the deadline, team officials talked of him one day serving a super-utility role, similar to what Kiké Hernandez has done so successfully in Los Angeles. While Dubon currently looks slated for the starting job at second base, he will get work in center field during spring training.
At the start of last spring, Duggar was the only one in that group who was part of the organization. Zaidi added Pillar to the mix after he struggled in five games with the Blue Jays early in the year, and the veteran ended up being an integral piece for the Giants.
Pillar hit 21 homers and drove in 87 runs in 156 games for the Giants, but there were underlying numbers that concerned the Giants as they looked towards the future. Pillar, who turns 31 in January, ranked second-to-last among qualified NL hitters with a .293 on-base percentage, walking just 18 times all season at a time when the Giants are preaching plate discipline throughout every level of the organization. While he made plenty of highlight-reel grabs, Pillar was worth negative-5 Defensive Runs Saved, per FanGraphs, and ranked 12th out of 14 qualified NL center fielders in the SABR index used for Gold Glove awards.
Pillar seemed to know this fate might be coming at the end of the year, saying he didn't want to talk too much about the organization's future because he wasn't sure what the front office would decide.
There has not been much of a trade market for players in Pillar's situation, and the front office ultimately decided to make a a decision that will be unpopular with much of the fan base and a clubhouse that gave Pillar the Willie Mac Award. It's one they believe will set them up better for the future, including the 2020 season.
Copyright C