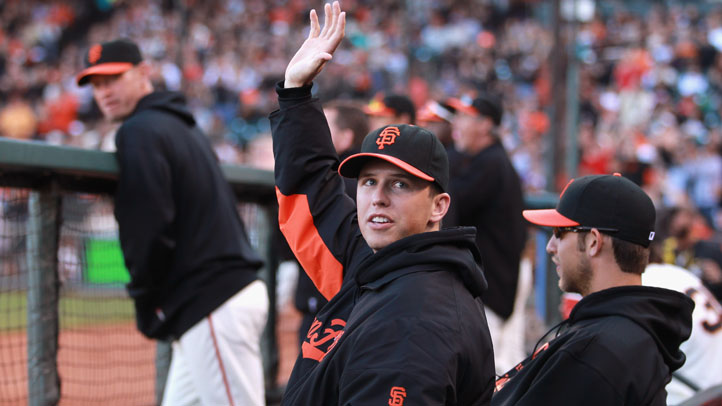 Throughout spring training, we've noted that one big concern with Buster Posey is catching back-to-back games. Good news: he's been cleared for just that.
Posey caught seven innings -- a spring-training high for him -- on Monday and, per Andrew Baggarly of CSN Bay Area, Bruce Bochy had just one question for him:
"How do you feel about catching tomorrow?" Bochy asked.
So yeah, Monday was awesome because Pablo Sandoval cranked a two-run, walkoff home run in a 4-2 Giants win. But the Posey news is even better.
Especially because it means that, per Bochy, this means Posey's likely headed towards catching Tim Lincecum on opening day.
"He needs to catch Timmy for opening day," Bochy said. "So it's important. ... I talked to him and he felt fine."
Posey echoed that sentiment on his Twitter account Monday night, posting an optimistic message to his fans about his progress and the rest of spring training.
"It felt good to catch the majority of the game today," Posey tweeted on Monday night. "We've made a lot of progress as a team this month and I'm looking forward to finishing strong as we head into the season."
As we've said before -- and what might be obvious -- Posey is pretty critical to the Giants success in 2012. If he can get back to legitimate full strength, or something closely resembling it, the team could likely show a huge improvement from an offensive standpoint.
Monday was a huge step in that bounceback.