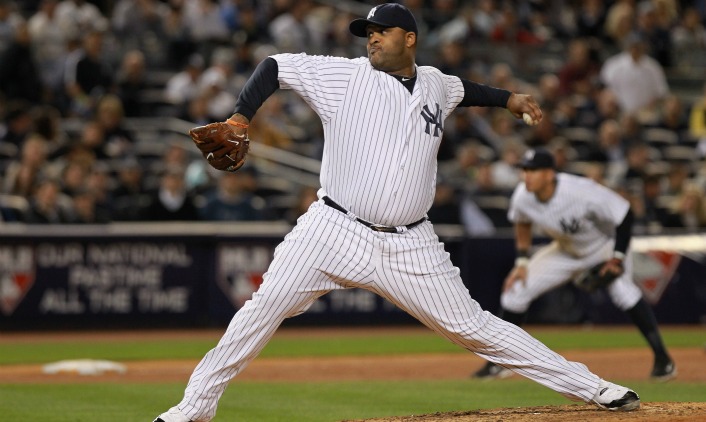 The offseason's here and that means over the course of the next few months we'll be dealing with plenty of speculation, random rumors and the like.
For instance, the seemingly throwaway line from Nick Cafardo of the Boston Globe on the likelihood of Yankees ace CC Sabathia opting out of his current contract.
"There is growing sentiment that he will [opt out]," Cafardo writes. "Where would he go? The usual suspects would be the Red Sox, Angels, Dodgers, Giants, and Tigers."
WUT?
But, no, really, what? The Giants are "usual suspects" when it comes to chasing one of the four-best lefthanders (Clayton Kershaw, Cliff Lee and David Price are the others in the mix, in my humble opinion) in baseball right now?
For the record, Sabathia would be an outstanding addition to nearly any team in baseball, even if he'll be 32 halfway through the 2012 season, is a bit out of shape and is absolutely looking for one more, big-time max contract that might not be worth it come the end of said deal.
Sabathia was fourth in the bigs with 230 strikeouts, tied for fourth with 237.1 innings pitched (his fifth-straight year with more than 230 IP), 17th in the bigs with a 3.00 ERA, and fourth in the majors with 19 wins. Needless to say, he's quite a good pitcher.
Here's the interesting thing, though: Sabathia is from the Bay Area -- he was born in Vallejo, Calif. He has already won a World Series ring. He has made millions and millions of dollars ($76 million, to be exact).
And he is going to sign a final contract that will enable him to retire. Would he want to retire gor a team where he'd pitch just a 40-minute drive from the place he was born?
I dunno. The Red Sox and the Yankees are still the favorites. I can't imagine the Dodgers, who Cafardo lists, will have the financial freedom to chase him.
And it's hard to fathom the Giants will either, especially if the team plans to re-up Matt Cain and Tim Lincecum, as Brian Sabean's suggested. (Not to mention: remember the last time they threw a monster contract at an aging left-handed free agent?)
Oh, yeah, and if they want to get some offense, too -- Jimmy Rollins and Sabathia are boys, but it seems unlikely both of them are taking a hometown discount. Sabathia would essentially prohibit the team from chasing any offense this offseason.
But, hey, again, it's the offseason, and we can always sit back and dream of a Lincecum-Sabathia-Cain-Bumgarner-Vogelsong rotation.
Because it would be awesome, even without any run support.